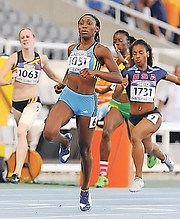 Anthonique Strachan
#By BRENT STUBBS
#Senior Sports Reporter
#bstubbs@tribunemedia.net
#IN what could be considered her "saving grace" as she continues to revitalise her promising young career, Bahamian sprinter Anthonique Strachan said she finds herself in the right atmosphere at the right time.
#Since 2018, Strachan has made the move from the United States to Jamaica where she's training in the Maximizing Velocity & Power Track & Field Club (MVP) where she works out and trains with Jamaican superstars Shelly-Ann Fraser-Pryce and Elaine Thompson-Herah.
#Over the weekend at the fourth and fifth Velocity Fest meets at the National Stadium in Kingston, Strachan sped to her season's best of 22.67 seconds for third place overall in the women's 200 metres.
#Strachan, who opened up in the first of the series of meets with 11.46 in the 100m for fifth place, said she's extremely pleased because she's running faster than she's ran in the past 5-6 years.
#"I can't be unhappy about it, although I see things that I need to improve on," Strachan said.
#"Outside of that, I'm really happy and excited about everything that is happening for me right now, especially with the route this season has taken. This has just given me a better outlook for the 2021 season."
#The 26-year-old 2012 double sprint World Junior Championship champion from Barcelona, Spain was referring to the disruption in the sporting world because of the coronavirus pandemic that shut down the indoor season and has put the outdoor season on hold.
#The Jamaicans, however, decided to return to some sort of normalcy by putting on a series of Velocity Fest Meets since July to keep their athletes in tip-top shape as they prepare for the 2020 Olympic Games in Tokyo, Japan, which has been postponed until 2021.
#In those meets, Strachan raced against Fraser-Pryce, the reigning World 100m champion, in the 100m in the first race and against Thompson-Herah, the defending Olympic 100/200m champion, in the 200m over the weekend.
#"Honestly, probably because I train with them, I don't feel no difference in competing with them as opposed to training with them," Strachan stated.
#"But I do know that once Shelly and Elaine go on the track, it's no more fun and games. It's all about the business and you know for sure there is going to be a fast time run. You just have to hope that either you have a fast time too or you get a chance to surpass them."
#In the series of meets, Fraser-Pryce, in her return to the track scene last year after having a baby, produced the fastest time in the world in the 100m in 10.87, followed closely by Thompson-Herah in 10.88.
#They both improved on the previous best of 10.98 by Bahamian Olympic 400m champion Shaunae Miller-Uibo in a meet in Florida. Thompson-Herah also turned in a time of 22.19 in the 200m, but it was to fall short of Miller-Uibo's world's leading mark of 21.98 last month as well.
#As one of a few international athletes training in Jamaica, Strachan said she feels right at home, even though some of the athletes constantly remind her to slow down her speech because they sometimes have a difficulty understanding her dialect.
#"Other than that, there's no difference because we all basically knew each other before we even started training together," Strachan said. "I knew Shericka (Jackson, the 400m specialist) from the CARIFTA days. I knew Elaine and Shelly-Ann from I started competing on the senior national team.
#"Even though I never had a one-on-one conversation with them like I have now, but I still spoke to them. It's okay to be around them because I know what they are like and it's easy to communicate with them."
#Not your typical early morning riser, Strachan said she had to make a major adjustment to get up around 4:40am to prepare herself to start her training shift, if it started either at 6, 7:30 or 9am.
#Once her session is done, she returns home and does her rehab and if she has to go in the gym, she will do it around 1pm. After she does another rehab session, she then completes the day by reviewing her workout sessions to see where she made her mistakes.
#When she initially made the transition from Auburn where she trained under coach Henry Rolle to Jamaica where she is now being coached by brothers Paul and Stephen Francis, Strachan said it's more than she had originally anticipated.
#"Based on where I was as a junior and where I was at when I came here, I felt I couldn't get no lower in my career," reflected Strachan, who is still seeking the international success she achieved as a junior athlete.
#"I felt I couldn't get no lower than I reached, so this was like my saving grace. I want to put myself in an uncomfortable situation to see if it's working. So when I came here in 2018, I was not all that interested in it."
#Used to the luxury of being in the USA where she could order an item and have it delivered to her doorstep in a day or two, Strachan said she came to Jamaica where she had to add the extra taxes for products to be delivered a longer time and her grocery list was extended from about $100 to $300.
#"The training camp was okay, but the personal life aspect was upsetting me. And once you are upset in your personal life, it trickles into track and field and into your business world," Strachan pointed out.
#"I was like, this wasn't making no sense because I was already in a decline in my career. I was like how I am going to save myself if I out myself in a stronger strain."
#But she was constantly reminded by her mother, Simone Farmer, that she just had to buckle down and make the best of her situation. She said the coaches in MVP also stressed to her the importance of doing whatever it took to make it work.
#"They just told me that I had to get used to the lifestyle here and try not to keep comparing it to the Bahamas or the United States because the Jamaican athletes are making the most of their situation," said Strachan, whose father is Alfred Strachan Sr.
#"I had to learn to trust the process."
#In 2011 after she left St Augustine's College, Strachan went to the US to begin her pro track and field career under the sponsorship of Puma for the 2012 season.
#Unfortunately, she didn't compete in college and that may have been one of the downfalls that hindered her transition from being a junior to a senior athlete.
#"Outside of my junior career, I didn't have that turn over as a senior," she said. "So I decided that I wanted to train with people who were better than me because I felt that is the only thing that will help me.
#"When you look at the 100 and 200m, the top competitors in Jamaica, so it's probably something that they are doing right that I wasn't doing correct. Because I signed as a pro as a junior, I skipped college, which would have given me that stepping stone in my senior career."
#As a result, Strachan said she didn't feel she was 100 per cent a pro athlete, although she was competing at 100 per cent, injury or injury-free. She did have Jamaican sprinter Kerron Stewart and Trinidad & Tobago's Marc Burns to rely on in Auburn, but they were on their way out.
#So she felt that with Fraser-Pryce and Thompson-Herah still in the prime of their career, Strachan said there was no way she could pass up the opportunity to train with MVP, a move that she said she would do it all over again, if she was presented with the challenge.
#"I wanted to be great and I felt that the only way I could do it, was to be in an atmosphere where the great athletes were," she quipped. "Here in Jamaica, MVP's whole camp is designed just around track and field. I feel this was something that I needed to actually ground me.
#"The way Stephen and Paul (Francis) coach, is completely different from any other coach I worked with in the past. I could respect their coaching style because they are so frank and direct. I could go to them and ask them if they think I could run 22.1 this year, if I had asked them that in 2018, they would have told me not the way I look. They would have said, you would be lucky to run 23."
#That blunt firmness, according to Strachan, was what she needed.
#"They constantly told me that I needed to put in more work because I can see what this person and that person are doing," he said.
#"I don't need to do what they are doing, but I need to come close to it in order to improve my performance.
#"In this camp, it's not like 'oh, you see what Elaine and Shelly-Ann are doing, let's do it too," she said. "What will work for them will not necessarily work for you.
#"But you sit there and see them do their abs and you haven't done your own for the day. They are number one and two in the world, do what you see they are doing. They put it into their running, so I had to take their mentality so that I can be successful too."
#Having been to the bottom of her career, coupled with a series of injuries, Strachan said she decided to take a more unified approach to her training and it's now paying off because she's running faster now than she did in 2013.
#With the Olympics postponed for another year, Strachan said she can look at improving her times now so that she can be more comfortable and when the season swings into full gear, she will be better prepared.
#"Next year, I can put this same work ethic into getting ready for the Olympics," she projected.
#"So even though the season hasn't come to an end yet, I should be able to produce the same type of times when next year come around.
#"I know next year will be close to a normal season. 2020 was one of the most stressful track and field seasons. This has been more stressful than getting through an injury. With an injury, I know I could treat this or that, but there is no recovery phase for what we are going through with this pandemic."
#Under the Puma contract, Strachan said she's making the best of her situation with MVP.
#"I don't regret coming to Jamaica and training here because right now, I'm doing better than I ever did before," she summed up. "I feel much better as well."
#This weekend, Strachan will be back in action, but she's not sure whether it will be in the 100 or 200, or both. She's just looking forward to continuing her progress in her bid to be the elite sprinter that she was primed to be.