As of Thursday, September 1, 2022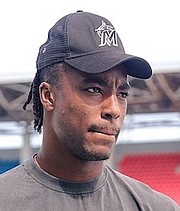 MIKE Strachan
#By RENALDO DORSETT
#Tribune Sports Reporter
#rdorsett@tribunemedia.net
#MIKE Strachan successfully overcame an offseason injury and a late start to training camp to make the Indianapolis Colts' opening day roster for the second consecutive season.
#The Colts released its initial 53-man roster just ahead of Tuesday afternoon's deadline and Strachan was listed as one of six wide receivers on the depth chart.
#After nearly three weeks on the PUP list, Strachan returned to the practice field and had enough of an impact to return to the roster for his second campaign with the club.
#"I had to embrace it. I couldn't be out there physically but mentally I was there. I had to stay engaged in the game plan, stay in the books, keep pushing, keep encouraging my teammates but I embraced it and made the best of it," Strachan told the Blue Stable at training camp.
#"For me, it was just finishing camp strong. Being able to put whatever I can on tape for the team, make some plays for the team, and let everything else take care of itself."
#The second year wideout finished his two preseason appearances with four receptions for 56 yards and a touchdown.
#Four-year veteran Michael Pittman Jr leads a young wide receiver corps that also includes, Strachan, Parris Campbell, rookie Alec Pierce, Ashton Dulin and Dezmon Patmon. "I love this group. I feel like we have a better group than what people think. With this group we have different guys who can do a lot of different things," Strachan said. "We have bigger receivers like Pittman, Dez, and I, we have shorter speedy receivers like Parris. We have alot of different guys that can do different things so I feel like we can be better than what people think, I feel like we can be the best."
#The Colts will open the 2022 regular season on the road against the Houston Texans, with that Week 1 game at NRG Stadium scheduled for 1pm ET on September 11. The game will be televised by CBS.
#Strachan said he looks forward to working alongside Colts iconic wide receiver Reggie Wayne who joined the staff in the offseason as the position coach.
#"It's great having him, he's been such a tremendous addition to this team and he's taken us to another level and I love having him as our coach," Strachan said.
#"He's able to break things down in detail, show me different ways I can improve and it's a blessing having him."
#Prior to joining the staff, Wayne raved about Strachan's size, speed, route running, and skillset last year as a rookie.
#"In my book, he's a Hall-of-Famer, so I'm just listening to what he says on the details, the route running, the catching, and even the little things," Strachan said. "I like to listen to his routine and what he does. He did it before, and I look up to him."
#Strachan's standout performance last training camp led the seventh round pick in the 2021 NFL Draft to a spot on the 53-man opening day roster.
#He began the year with appearances in the first two games of the regular season but played sparingly for the remainder of the campaign.
#In week one, he finished with two catches for 26 yards in the Colts' 28-16 loss to the Seattle Seahawks. Strachan was on the field for 18 snaps and was targeted three times – a higher rate than any other receiver in the lineup.
http://www.tribune242.com/news/2022/sep/01/strachan-named-colts-opening-day-roster/?news