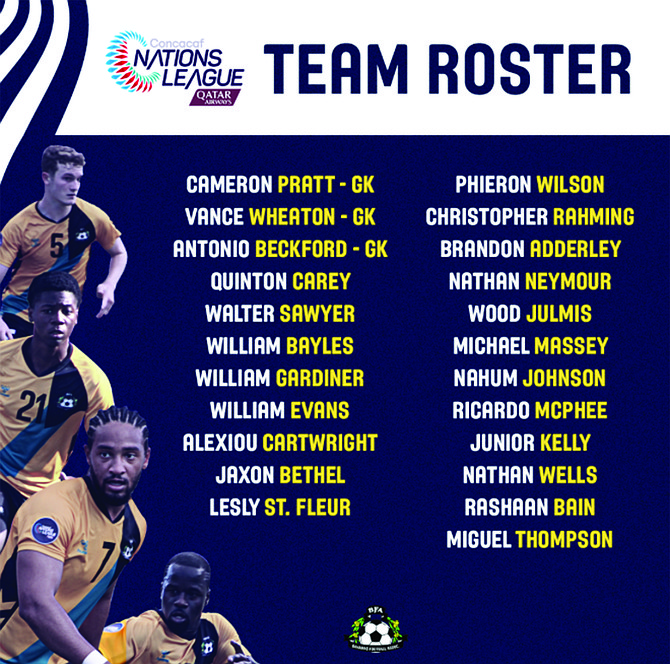 As of Thursday, August 31, 2023
#THE Bahamas Football Association has announced a 23-player roster for the upcoming Concacaf Nations League match against Puerto Rico.
#The game is scheduled to be held at the Thomas A Robinson National Stadium on September 9.
#Head coach Nesly Jean has called up a blend of youth and experience to begin the Nations League campaign.
#The squad features long-time national team players along with talented young stars looking to make their mark on the international stage. "I'm excited about the balance of this roster," said Jean. "Our veterans provide the leadership we need, while our emerging talents bring energy and fearlessness."
#Goalkeeper Antonio Beckford, defenders William Gardiner and Miguel Thompson, and striker Lesly St Fleur are among the key veterans carrying over from Bahamas' qualifying run. They are joined by young standouts like midfielder Wood Julmis and forward Rashaan Bain who are expected to play increased roles. After facing Puerto Rico at home, The Bahamas will travel to Guyana on September 12 followed by a home game against Antigua & Barbuda on October 14.
#The Nations League provides important competition as the team aims to climb the FIFA rankings and compete for a place in the Gold cup competition.
#"The talent is there, and the team is driven to succeed," Jean added.
#"We are eager to represent The Bahamas and continue our progress through the Nations League."