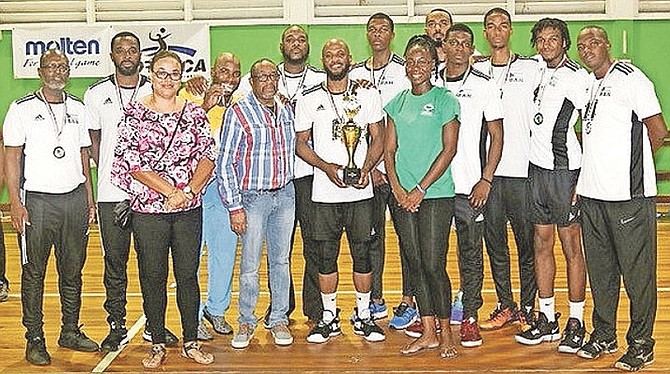 The Bahamas men's volleyball team receive their silver medals.
#By BRENT STUBBS
#Senior Sports Reporter
#bstubbs@tribunemedia.net
#AS the 17th edition of the Men's CAZOVA (Caribbean Zonal Volleyball Association) Championships closed out on Tuesday night in Parimaribo, Suriname, the men's national team had to settle for the silver.
#The team arrived home late Wednesday night and head coach Lloyd Davis said they accomplished their mission, which was to medal, although it wasn't the colour they anticipated.
#"The team performed awesomely," said Davis, who was assisted by Kurkwood Greene Sr.
#"We only had ten players, but we went down there with a mission. We didn't accomplish what we wanted, but we came out with the silver against all odds."
#In a re-match of their marathon round robin showdown, the Bahamas fell victim to hosts Suriname, who claimed the title before a packed Ismay Wilgen Sporthal with a 25-20, 13-25, 25-22, 25-23 decision.
#"We only had 13 people down there pulling for each other. That was one referee, two coaches and ten players," Davis said. "Nobody else, but we were able to overcome all of the adversities, all of the fatigue and come home with the silver medal."
#Renaldo Knowles, Byron Ferguson and captain Princtanique Wilson had 15, 14 and 13 points respectively.
#Other members making up the Bahamas team were Kyle Wilson, Je'Vaughn Saunders, Jamaal Ferguson, Donavan Wilmott, Eugene Stuart, Tonny Simon and Shonari Hepburn.
#Lanza Miller also attended the tournament where he served as a game official.
#Davis commended Tim Munnings, the Director of Sports at the Ministry of Youth, Sports and Culture, who provided a grant for the Bahamas Volleyball Federation to get a draft from the bank to cover their expenses to travel.
#"I told him that we would have medalled and I told you (Tribune) that we could have won the title," Davis said.
#"We just fell short. Our biggest thing was fatigue. We played Trinidad & Tobago that morning to get into the final and beat them in five sets.
#"Suriname were in the hotel resting and they came right back and played us in the final at 8pm that night with a crowded gym. Fatigue set in. This was the first tournament that we went to and had to play two games every day, but we were still able to overcome that."
#Davis said it was a pretty good learning experience for the team because the players realise that practice is very important from start to finish.
#"From the time we started practicing to when we cut the squad to travel, we need a full squad," he stated.
#The Bahamas won three of their five matches in the tournament, but lost both times to Suriname, including their classic five-set marathon that lasted almost three hours. The final score was 42-40, 23-25, 21-25, 25-22, 15-11.
#Trinidad & Tobago, who were dethroned by the Bahamas in their semifinal match, had to settle for the bronze medal as they knocked off ten-time champions Barbados 26-24, 25-22, 28-30, 25-22.
#During the awards presentation, the Bahamas got its lone individual award from Renaldo Knowles, who was named the best receiver.
#Suriname collected five of the 12 awards as Keven Sporkdslede captured three, including best outside hitter, top scorer and the most valuable player.
#Despite losing all of their matches, Haiti took home three individual awards, the same as Trinidad & Tobago. Barbados was the only team not to collect any individual awards.