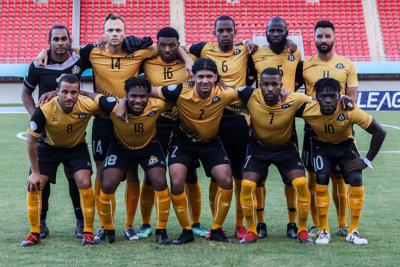 The Bahamas senior men's national soccer team will get the first leg of their final window of the 2023 Confederation of North, Central American and Caribbean Association Football (CONCACAF) Nations League underway tomorrow, taking on Guyana at the Felix Sanchez Stadium in Santo Domingo, Dominican Republic. The game gets underway at 6 p.m.
The match is a home game and is being played in the Dominican Republic because the Thomas A. Robinson National Stadium is undergoing repairs.
"This is a difficult window as guys are nursing injuries and there are players who are off to school. There is no excuse as we still have to perform to the best of our ability. We picked up some momentum from the last game, so we are hoping to improve on that," Jean said.
Midfielder Chris Rahming, who has played in all of the previous four games and found the back of the net once, is expecting him and his teammates to play with a lot of heart as they wrap up Nations League action for this year.
"The guys fought a lot more in the last game, so coming into training for this window, it seems like the guys have more heart now. We see what it takes to compete in these games. I think we are going to do better in these games this time around," Rahming said.
Guyana leads the group with the full 12 points. They only need a draw to ensure promotion to League A. Puerto Rico has six points while Antigua and Barbuda has four points. The Bahamas has one point and will look to win their remaining games. They will play Puerto Rico on
Tuesday in Puerto Rico.
The Bahamas and Guyana faced each other in September in Leonora, Guyana, with the home team escaping with a narrow 3-2 victory. The Bahamas scored the first goal in that game but the home side got two goals to go up 2-1 before Team Bahamas tied it up. Guyana got the go ahead goal and the win.
That game is history now, and Jean is looking ahead to the game tomorrow.
"We just need to improve on momentum," Jean said. "If we limit the mistakes, we could do well in the Caribbean, but it takes mental focus for 90 minutes. The players have something to prove because we want to go out there and improve in the group stages."https://7128cee8df8e87f115f27b460f787a1a.safeframe.googlesyndication.com/safeframe/1-0-40/html/container.html
A look at the scores from home and away games, it seems like the team plays better away.
"We wish we were playing in front of our crowd to show them that we are capable of playing based off the 2-2 result against Antigua and Barbuda. On the flip side, I think the guys are more comfortable playing away instead of playing with their families and friends around, which is the best time to play; but at the same time, the players are more comfortable playing away when there is not so much pressure on them," Jean stated.
Rahming echoed the same sentiments as his coach about playing away from home.
"It is strange, but we play better away from home as the scoreline shows in the away games," Rahming said. "It may be because playing at home brings more pressure on us as we play in front of family, friends and people who know us. Playing on a neutral ground maybe easier on the players."
Rahming is looking to play at a high level to help the team get a win, also hoping to be noticed by professional scouts.
The team arrived in the Dominican Republic yesterday and will hold their final practice today before playing Guyana tomorrow.