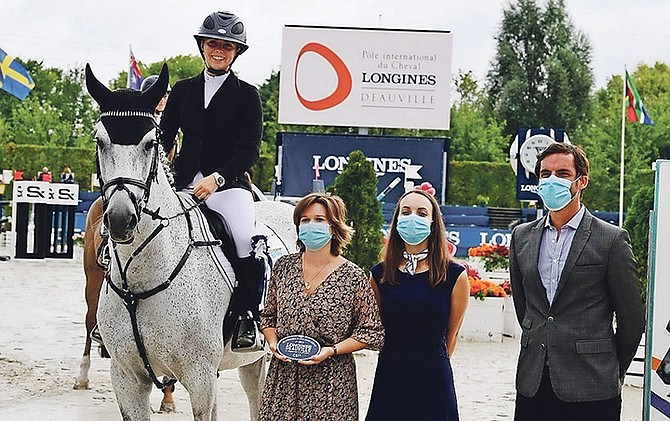 MILLIE Vlasov and Beaumont M/V receive the 3rd place prize in the 1.15m Jumpers at Deauville, France.
As of Wednesday, August 26, 2020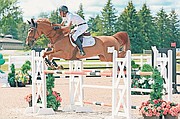 MARCUS Davis and El Porvenir Corro moved up to Grand Prix level at Angelstone, Ontario.
#BAHAMIAN show jumpers abroad are seizing the opportunity to shine in the ring, as equestrian event organisers worldwide begin to establish a "new normal" for showground competition after months of event cancellations due to the coronavirus (Covid-19) pandemic.
#For equestrians Marcus Davis, who trains in Canada, and Anna Camille Vlasov, who is currently based in France, it's back to training and competing as usual.
#With equestrian competition on hold earlier this year due to Covid-19, Davis used his time out of the saddle to participate in social media campaigns to raise awareness for diversity in equestrian sport.
#He returned to competition in July, riding in his first Grand Prix competition. At the Angelstone Tournament in Ontario, Davis and his mount El Porvenir Corro put in two strong rounds in the 1.15m Jumpers to finish 5th out of a field of 22.
#Vlasov has been active on the European circuit since competitions resumed. Last week, in Deauville, France, she and her veteran equine partner Beaumont M/V placed 3rd out of 42 in the 1.15m class.
#While Vlasov noted that Beaumont is "in his retirement phase" and just "having fun winning", she is very excited about her elite competitive prospects with her new mount, Etos HBC. At Deauville the pair had a clear round in the 1.30m class, finishing 24th out of 78 in a time of 74.21 seconds. Vlasov was enthusiastic about the performance, noting that Etos is a young horse and still has a lot to learn. "I'm so pleased with [his] progress," she said. "Hopefully next show we can start the bigger classes."