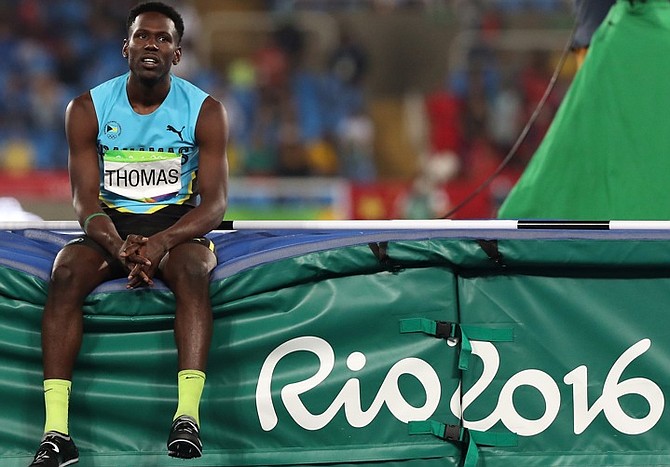 Donald Thomas reacts during the men's high jump final. (AP)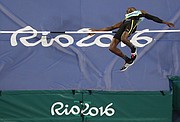 Trevor Barry competes in the high jump final. (AP)
#By BRENT STUBBS
#Senior Sports Reporter
#bstubbs@tribunemedia.net
#RIO de Janeiro, Brazil — Donald Thomas and Trevor Barry were nowhere near their best, finishing seventh and 11th overall respectively, as they made their return to the men's high jump final at the 2016 Olympic Games.
#The duo, who got eliminated in the qualifying rounds in London, England four years ago, came up with their best performances yesterday in the Olympic Stadium with 2.29 metres or 7-feet, 6-inches for Thomas and 2.25m for Barry.
#Canadian Derek Drouin went on to clinch the gold with a season's best of 2.38m (7-9 3/4), while Mutaz Essa Barshim from Qatar was the silver medallist with 2.36m (7-8 3/4).
#Bohdan Bondarenko of the Ukraine secured the bronze with 2.33m (7-7 3/4) as he edged out three other competitors on fewer knockdowns.
#Thomas, the 32-year-old 2007 IAAF World champion in Osaka, Japan, was clear through the first three heights at 2.20m (7-2 1/2), 2.25m (7-4 1/2) and 2.29m (7-6) before he knocked down all three attempts at 2.33m (7-7 3/4).
#Thomas, coming off his bronze medal at the Pan American Games and sixth place at the World Championships last year, ended up tied with two other competitors.
#Barry, on the other hand, cleared his first two heights at 2.20m (7-2 1/2) and 2.25m (7-4 1/2), but he struggled at 2.29m (7-6) and wasn't able to go any higher.
#"I was disappointed," Barry said. "But I give God thanks for allowing me to compete and come out uninjured. But I'm very disappointed."
#During his jump phases, Barry said he was accelerating to the bar but not the curve going into the pit, he just didn't get it right.
#"I might shut it down," said Barry when asked where he goes from here. "I have to talk to my agent and see what's going on."
#Barry said the competition was extremely tough as the top three contenders were hoping to make an attempt at the world record of 2.45m set by Cuban Javier Sotomayor in Spain in 1993.
#"I was jumping good up to 2.25. At 2.29, I was pressing it too much and I wasn't relaxed on the curve," he said. "All of those are manageable heights. They just didn't come through today."