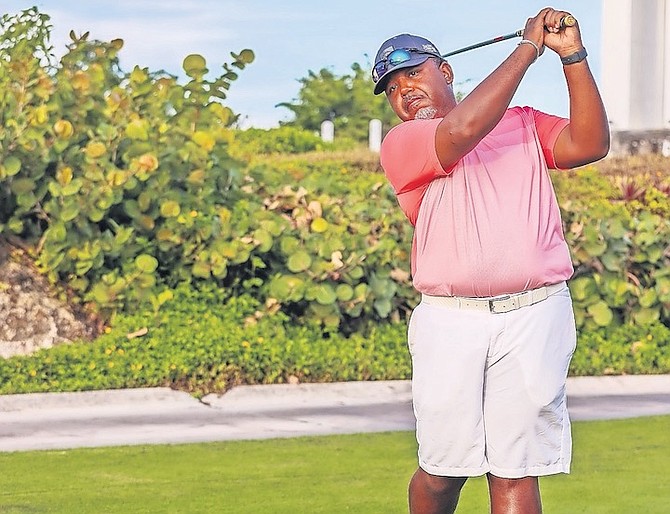 CHAMPION David Harris in action. Photos: Austin Fernander
As of Tuesday, October 11, 2022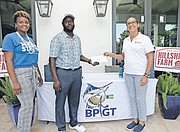 RICCARDO Davis makes a cheque presentation to REACH Bahamas board member Greer Symonette- Bain. The event was sponsored by Hillshire Farm with proceeds going to REACH Bahamas.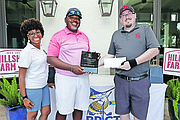 CHAMPION David Harris receives his award from Harrison Collins. Nickie Davis looks on.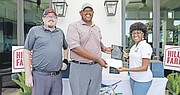 RUNNER-up Keno Turnquest receives his award from Nickie Davis. Harrison Collins looks on.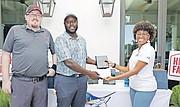 THIRD place finisher Riccardo Davis receives his award from his wife Nickie Davis. Harrison Collins looks on.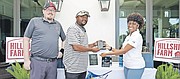 FOURTH place finisher Stephano Stuart receives his award from Nickie Davis.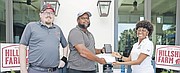 BGF president Lynford Miller receives the fifth place award for Lemon Gorospe from Nickie Davis as Harrison Collins looks on.
#By BRENT STUBBS
#Senior Sports Reporter
#bstubbs@tribunemedia.net
#FOR the second tournament in a row, David Harris emerged as the champion of the Bahamas Professional Golf Tour.
#Harris shot three-under-par 69 to win Sunday's second tournament at the Royal Blue Golf Course at Baha Mar. It was the Signature Golf Classics, sponsored by Hillshire Farm with proceeds going to REACH Bahamas, an organisation that brings awareness about Autism in the Bahamas.
#Keno Turnquest was the runner-up with an even-par 72, while tournament organiser Riccardo Davis was third with a three-over-par 75. Stephano Stuart was one shot behind at 76 for fourth and Lemon Gorospe rounded out the top five with a 77.
#In the first tournament in August, Harris won with an even-par 72. He said he was just delighted to duplicate the feat in the second tournament.
#"I had a good time. The course is in good condition. I came out to beat the golf course. Once the golf course is in good condition, it's going to be hard to beat me," Harris said. "I like the fact that the Bahamas Professional Golf Tour is giving us this opportunity to come out and continue to develop and continue to have fun as we enjoy the game."
#In preparation for the tournament, Harris said he didn't want to let the "secret" out of the bag, but he admitted that he's been practicing on his game.
#"Don't tell no one, but I've been working on my game," he insisted. "I found a new motivation to get in shape and I'm on a journey to lose 80 pounds, so I'm doing all of the things that I need to do to get it right.
#As he prepares for the next tournament, Harris said he will be out to pull off a three-peat and he's not concerned about any of his rivals because "they have to do what they have to do to get better and I have to do what I have to do to stay on top."
#Turnquest said he had a good day.
#"I haven't played competitive golf in a while so it was good to get the juices flowing and to see where I'm at and what I need to work in practice," he said. "It wasn't great, but it was respectable, so I can live with that."
#With just a handful of pro golfers in the country, Turnquest said anytime they can assemble together they play, they are grateful. He thanked Davis and his team for organising the tour and is looking forward to the next tournament in November.
#"The competition was good and so I'm looking forward to improving on my performance in this one," he proclaimed.
#For Davis, his performance was not where he wanted it to be.
#"It was a little rough," he declared. "I haven't been playing as much and because I don't like to lose, I am going to start practicing so that it doesn't happen again."
#The tour normally runs from March to November every year since its inception in 2018 to provide an opportunity for the pro golfers to compete in a series of events every month. However, Davis said they had to postpone the tournament in 2020 and 2021 because of the pandemic.
#"This year, we started very late, again because of the restrictions with the pandemic," he said. "We didn't start until August, but we had to call off September's tournament and now we're back on track. We will have two more in November and December."
#"This tour is what I call the stepping stone or the building block to get to the next level," Davis said. "This is an opportunity for our local pros and our top amateurs to hone their skills and get their game to the next level where they gain an athletic scholarship or they get to compete on the international pro scene."
#Davis expressed his gratitude to Hillshire Farm for being the sponsor for Sunday's tournament.
#"Without them, the event would not have been able to happen," he said. "We had a great turnout with most of the top players in the country competing.
#"We were missing two, one in Houston and one in Exuma, but next month, we're expecting the same type of field, but at a different golf course with some great competition again."
#Harrison Collins, a representative for Hillshire Farm, said they were excited to be able to assist the BPGA.
#"It was a tough day out there on the course, I can assure you that," Collins said. "But we have some great golfers here and we're just happy to see that and to have the winner shoot under par is just remarkable."
#Proceeds from the event went to REACH and board member Greer Symonette-Bain said they are humbled and grateful for the gesture by the BPGA Tour because they need all of the assistance they can get to provide information, services and tools for children who are on the spectrum.
#She said they are now challenged trying to get more children with autism into the school system.
#"We're trying to get the Bahamas government to provide more units, more classrooms, more teachers and more therapists because we have so many children who are now diagnosed with autism," she stressed.
#"A lot of children are being deprived because they can not take advantage of the limited resources available."
http://www.tribune242.com/news/2022/oct/11/three-under-par-harris-champion/?news