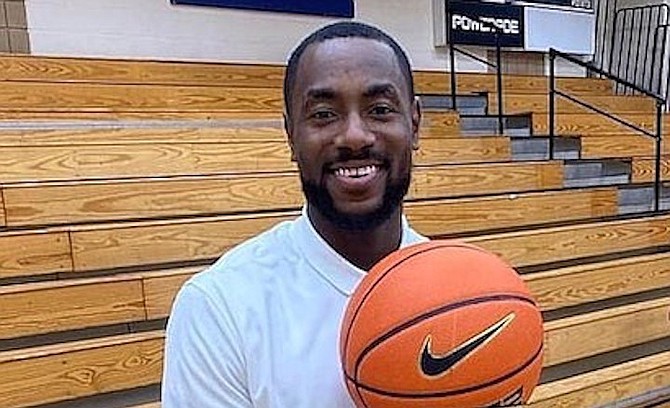 Lourawls Nairn Jr
As of Thursday, September 8, 2022
#By RENALDO DORSETT
#Tribune Sports Reporter
#rdorsett@tribunemedia.net
#Lourawls Nairn Jr continues the progression of his basketball coaching career and will return to the sidelines at the NCAA Division I level.
#The Southern Utah Thunderbirds' men's basketball programme announced Nairn's addition to the staff as an assistant coach yesterday.
#The Thunderbirds, led by head coach Todd Simon, are based in Cedar City, Utah, and compete in the Western Athletic Conference.
#"Yet another depiction of the Lord's grace in my life. I'm so grateful to coach Simon for giving me the opportunity to be a part of such an amazing program!" Nairn said, "T-Bird Nation, let's go! Don't get off the treadmill first!"
#The Thunderbirds finished 23-12 overall last season, 14-6 in the Big Sky Conference.
#They made the transition to he Western Athletic Conference for the 2022- 23 season and will open the year on December 29 against New Mexico State University.
#"Coach Nairn will be an excellent addition to our staff," said Simon. "He brings an infectious energy and strong leadership. His experience in player development at the NBA, college, and prep school levels is going to benefit our programme. He has been a winner everywhere he has been from playing and coaching at Sunrise Christian Academy, to playing and working for coach Izzo at Michigan State and also as a EYBL coach for Mokan Elite."
#During the regular season, Nairn was the head coach of the postgraduate men's basketball team at nationally ranked Sunrise Christian Academy in Bel Aire, Kansas. He led the Buffaloes to a 24-2 record.
#Over the summer, he served as an assistant coach for the latest Mokan Elite team that captured the 17U title at the Nike Elite Youth Basketball League Peach Jam.
#Nairn reflected on his days as a player at the same event a decade ago when his title chase came up just short. His post playing career has taken him to the NBA, NCAA, and prep levels. He spent the 2018 season in a role with the Phoenix Suns as a member of the coaching staff with a focus on player development and also made his debut as an author with an autobiography entitled "Purpose Driven."
#After two years, he returned to his prep alma mater for the first head coaching appointment of his young career.
#During his playing days at Sunrise, Nairn rose from a little known recruit to a highly sought after Division I prospect.
#Sunrise Christian Academy retired his no.11 jersey in 2021.
#He went on to play four seasons for the Michigan State Spartans and was part of two Big Ten championship teams while reaching the Final Four in his freshman season of 2015.
#Nairn was one of several players in the pipeline from The Bahamas to Sunrise Christian that also included Indiana Pacers guard Chavano "Buddy" Hield (Oklahoma) along with Division I talents Nathan Bain (Stephen F Austin), Travis Munnings (Louisiana-Monroe), and Radshad Davis (UT-Arlington/FIU) among others.
#As a player, Nairn continues to compete for Team Bahamas at the senior men's national team level. He joined the roster in the latest window of the FIBA World Cup '23 Qualifiers in games against Venezuela and Argentina.
http://www.tribune242.com/news/2022/sep/08/tum-tum-takes-coaching-job/?news