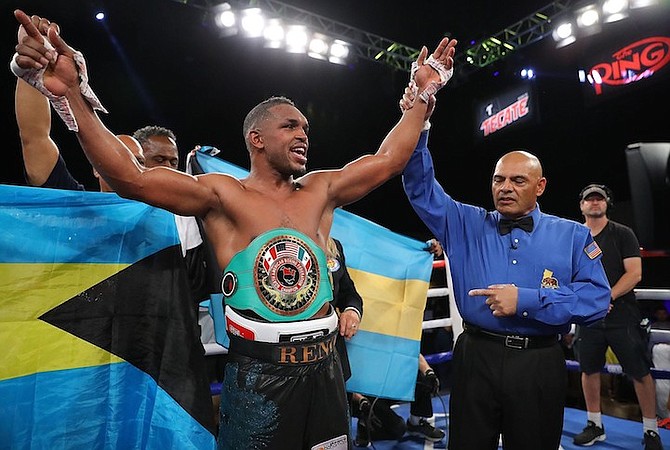 TUREANO Johnson has his arm raised by the ring referee in one of his victories.
As of Monday, November 13, 2023
#By BRENT STUBBS
#Senior Sports Reporter
#bstubbs@tribunemedia.net
#AFTER a glaring amateur and professional boxing career that fell short of a world title, Tureano 'Reno' Johnson is coming home for his final fight next month before he officially retires from the sport.
#Johnson, who has only had one fight at home during his 25-fight campaign that began with his successful debut on March 5, 2010 over American Cleoney Fuqua in Atlanta, Georgia, to last match on October 30, 2020 when he lost to Jamie Munguia in Indio, California, said he wants nothing better than to go out with a bang, despite reports that he had retired since 2020.
#Having fought during his tenure as a middleweight, Johnson will move up to compete as a cruiserweight against Colombian Samuel Miller on Saturday, December 15, at a venue yet to be determined.
#After losing his last fight to Munguia for the vacant World Boxing Organisation's Inter-Continental Championship belt, Johnson said he was offered a fight in Miami, Florida against Miller, who once fought Grand Bahamian Sherman "The Tank" Williams.
#Johnson, however, declined the offer.
#But now that he's getting ready to retire, he decided to negotiate to have the fight staged here at home as a farewell to Johnson. "He challenged me for whatever reason, I don't know. Maybe, it's for redemption for Sherman Williams," Johnson said. "So we're just trying to get a venue here in Nassau locked in. We will have at least five bouts on the card, featuring some of the guys I trained with in my camp in the United States.
#"It's a big deal for me headlining a card at home, knowing that this is the last time that I will be stepping in the ring as a competitive fighter."
#At the age of 39 and his dreams of becoming a world champion diminished, Johnson said he just thought it's time for him to hang up his gloves and to venture into coaching and the administration of boxing in the country.
#"With the zeal and interest to fighting virtually gone, I decided to call it quits," Johnson said. "I've found that my passion is now towards helping the younger folks and be more of a natalist, one who is more focused on the young men and young in the country.
#"I do have a bug brother ministry that I cater much of my time too and now I want to expand that. With the focus on boxing and outreach ministry, it does take a toll on you and so my focus is more on the outreach ministry and my boxing club, the Marlins Boxing Club in the south."
#With so much to accomplish in the amateur boxing programme, Johnson said he want to help groom the next Bahamian boxer to compete at the Olympic Games and other international events like the Pan American Games and the Commonwealth Games.
#"I think it's time for me to hang up the competitive gloves and help the younger boxers, who have the interest in becoming a world boxing champion," said Johnson, who admitted that it was dream of his before it was shattered.
#As he looks back at his career, Johnson, who accumulated a 21-3-1 win-loss-draw record, said he was very pleased to set the bar as a young fighter.
#"I guess I could say I was a trailblazer in my own rights," he reflected. "I am very proud of my accomplishments, having qualified for the Olympics as an amateur and made it to the quarterfinals. I believe that was a feat in itself.
#"But there are stronger, faster and much more talented young fighters out there and even more than that, I believe that there are some out there who are much more hungrier than I am or was and so I want to contribute, not only boxing in the country, but to the young men and women who want to make a positive impact in the sport."
#As a professional, although the world title slipped out of his grasp, Johnson said he has no regrets about his past because he was once ranked as the number one contender in all four of the major boxing organizations – WBO, World Boxing Association (WBA), World Boxing Federation (WBF) and World Boxing Council (WBC).
#"I am proud and I am satisfied with the work that I've done, thought I was not able to obtain the world title," he said. "But I can say I've done extremely well with my career. I really can't complain at all. I had a good time over the years."
#Johnson's only fight home was on December 5, 2014 when he secured s technical knockout over Humberto Toledo at the Kendal Isaacs Gymnasium. It was his third straight victory after he suffered his fight loss of his career to Curtis Stevens on Philadelphia.
#Prior to the loss, Johnson was a 14-0-win streak. After his victory at home, Johnson went back to the USA where he extended his winning streak to six. He suffered his second defeat at the hands of Sergiy Derevyanchenko in Maimi on August 25, 2017.
#On February 9, 2019, Johnson drawn with Fernando Castaneda before he won over Jason Quigley on July 18, 2019 before he suffered his final loss to Manguia after he was unable to complete the fight because of a severe cut to his mouth.
#Back home after spending about five weeks in Cuba where he started his preparation for the fight, Johnson said he's looking forward to putting on sparring sessions every Saturday on Goodsman Bay from noon for about two hours to any Bahamian who wish to support him. He said every competitor will get a free ticket for fight night.
#In preparing for his retirement, Johnson thanked his parents George and Ikenna Johnson, along with his wife Natania Johnson and the rest of his family for their tremendous support. He also expressed his delight to AquaPure Water, KS Moses, Food Kingdom, Original Patties, Transformations Landscape Development and Commonwealth Fabrics for their financial support over the years.