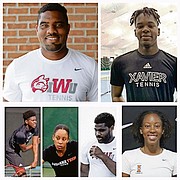 #Abigail Simms and Indiana Tech Warriors lost to St Thomas 2-4 at the Nationals in Mobile Alabama.
#Simms fought hard against Lia Pena in singles. She lost in a competitive first set 6-7 and 2-6 in the second set. Simms played #1 doubles and #2 singles position for Indiana Tech.
#Jacobi Bain and XULA Gold Rush won 4-2 against Cumberlands.
#Bain lost in the #4 singles in straight sets 4-6, 4-6 to Martin Muller, but made up ground in doubles with partner Megh Patel, winning 6-3.
#Joshua Turnquest and the Indiana Wesleyan Wildcats won 4-1 over Southeastern University.
#Turnquest won playing in the #2 position in doubles with partner Jeremias Rocco 6-2 and won the first set in his singles 6-2 but did not need to finish as his team had already secured the win.
#The BLTA congratulated Simms on her back to back NAIA Nationals appearance and a great tennis season.
#Turnquest and Bain will see action again today as they have advanced to the next rounds.
#Only one will move on as they now face each other. The BLTA congratulated both for advancing to Nationals Quarterfinals and wished them both a great match today.