Tynia Gaither 7th in 100 final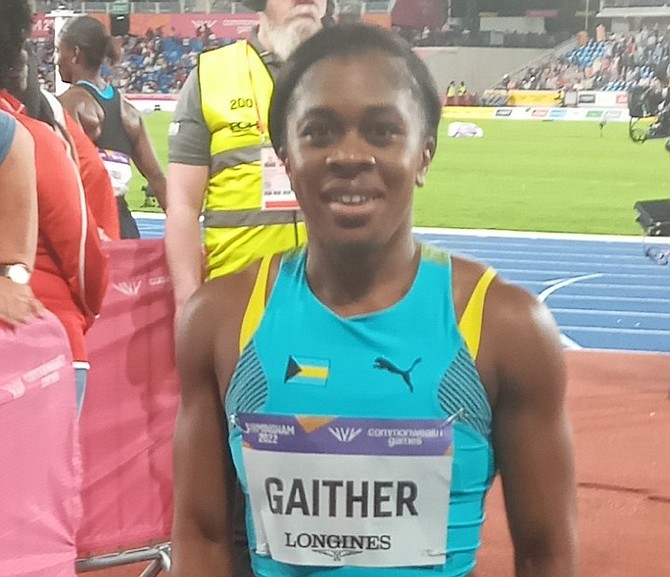 Tynia Gaither put together two solid races yesterday for a seventh place finish in the women's 100 metres in the jam-packed Alexander Stadium at the Commonwealth Games.
As of Thursday, August 4, 2022
#By BRENT STUBBS
#Senior Sports Reporter
#bstubbs@tribunemedia.net
#BIRMINGHAM, England — Shaking off the disappointment of her false start in the semi-finals of the World Championships in Eugene, Oregon two weeks ago, Tynia Gaither put together two solid races yesterday for a seventh place finish in the women's 100 metres at the 2022 Commonwealth Games.
#After getting her "wake up call" in the first round heats on Tuesday, Gaither powered her way to a third place finish in the last of three semi-final heats at the jam-packed Alexander Stadium in 11.17 to advance to the final with the seventh best qualifying time.
#She returned in the final a little over an hour later and had to settle for seventh in 11.23 as Jamaican Elaine Thompson-Herah took the gold in 10.95 with St Lucia's Julien Alfred snatching the silver in 11.01 and Daryll Neita getting some hometown glory for England with the bronze in 11.07.
#"It was one of my better starts for this meet, so I'm happy with it," said Gaither, who has some flashes of Eugene on her mind.
#"It's been a little tougher mentally with the blocks, so I'm just trying to be a little cautious ever since it happened. Maybe holding it a little too long, but it will get better."
#The 29-year-old Bahamian national record holder got a good start to go with the field at the crack of the gun. The race got away from her in the middle of the straight away, but she was able to regain her composure and stormed back to get into it. It was just a little too late.
#"I just wanted to trust my strength and to go out there through the rounds and make it happen," Gaither said. "We've been training to get through the rounds."
#And for the first time, Gaither said she was astonished by the crowd of 30,000 fans that filled the stadium in both the day and night sessions to help propel the athletes on.
#While she originally was scheduled to run just the 200m here, on her arrival Gaither made a change to enter the 100m as she will leave Birmingham today for Poland where she's scheduled to run in a 200m and in Hungary before she comes home to compete in the NACAC Championships in Grand Bahama from August 19-21.
#"I'm going home. I can't wait," insisted the Grand Bahamian native. "Got to do something for Grand Bahama."