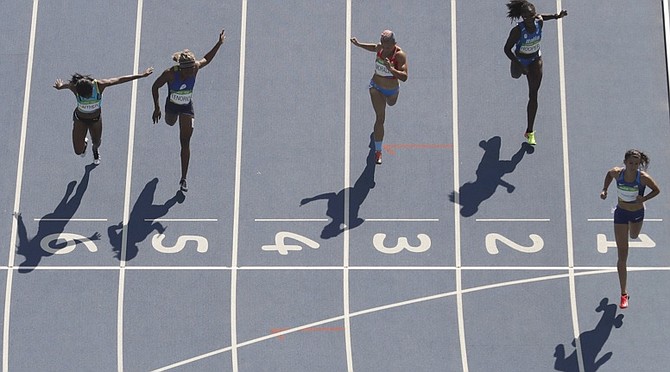 Tynia Gaither (left) finishes third to qualify for the 200m semifinals. (AP)
#By BRENT STUBBS
#Senior Sports Reporter
#bstubbs@tribunemedia.net
#RIO de Janeiro, Brazil: Bahamian double sprint national champion Ty'Nia Gaither shook off her disappointment in the 100 metre preliminaries on the opening day of athletics at the 2016 Olympic Games to make it to the semi-final of the 200m on Monday at the Olympic Stadium,
#Gaither posted a time of 22.90 seconds for a third place finish in the first of nine heats to advance. She had the fifth of the six fastest times after the two automatic qualification spots in each heat.
#"That race definitely felt a lot better. I was definitely more comfortable with that. I was more in my zone and my mind was in a much better place," she told The Tribune as she watched as Netherlands' Dafne Schippers take the tape in the fifth fastest time of 22.51.
#As for the 100m, where she ran 11.58 for fifth in her heat and 39th overall, Gaither said everything just happened so fast and she wasn't as relaxed and comfortable in the half-lap race. She will now prepare for the semi-final on Tuesday at 9pm when she will run out of lane one in the first of three heats. She will need to finish as one of the top two finishers or have one of the next two fastest times to get into Wednesday's final.
#Two other Bahamians were joining to join Gaither in her Olympic debut, but Anthonique Strachan and Sheniqua 'Q' Ferguson didn't make it.
#Strachan, back in action since having surgery in November, was also third in her heat in a season's best of 2.96, just missing the cut of 24 with 26th position overall. She was one spot ahead of Jamaican former Olympic champion Veronica Campbell-Brown, who did 22.97 for third in her heat as well and 27th overall. Nigeria's Blessing Okagbare was the winner of the heat in 22.71.
#"It's good. Lane one was just a dead lane, but I can't complain because you have other competitors running in it," Strachan lamented. "But it feels good to get a season's best."
#Ferguson, on the other hand, was eighth in her heat in 23.62 as she ended up 58 out of a field of 72 competitors. Ferguson was visibly upset over the media suggestion in another publication that she should not be allowed to compete if Shaunae Miller wanted to pursue a possible 200/400 double. Ivet Lalova-Collio of Bulgaria won the heat in 22.61.
#Ferguson declined to speak to the media.