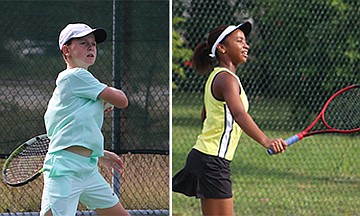 Patrick Mactaggart, left, and Tatyana Madu have advanced to the finals of the U-14 Junkanoo Bowl Finals at the National Tennis Centre.
As of Wednesday, November 15, 2023
#By TENAJH SWEETING
#Tribune Sports Reporter
#tsweeting@tribunemedia.net
#BAHAMIANS are all set to play in the under-14 (U14) Junkanoo Bowl finals at the National Tennis Centre (NTC) today.
#The venue has been quite busy following the first ever hosting of the International Tennis Federation (ITF)- COTECC regional training camp for English-speaking countries.
#The four-day event is scheduled to conclude today after singles and doubles matches wrap up.
#Among the top Bahamian juniors in action this morning are Tatyana Madu, Patrick Mactaggart and Briana Houlgrave.
#Madu, the number one seed, packed her bags for the finals after overcoming Curaçao's Keziah Fluonia in two sets.
#The opening set went down to the wire for the Grand Bahama native but she won 7-6(3). The 14-year-old then collected a comfortable win in set two (6-1) to secure her place in today's finals.
#One of the three Bahamian representatives said she made some errors but was able to regain her composure for the win in yesterday's singles semifinals.
#"My match was pretty good. I had to overcome some unforced errors I was making but once I overcame that, the second set was a breeze," she said.
#She added that for this morning's match, she wants to be patient, wait for the short ball and take her time.
#Madu will face Makeda Bain of Trinidad and Tobago, who upset the second seeded Sarai Clarke in the semifinals.
#The latter and the former had a gruelling and competitive match at the NTC. In the first match of three, Bain gained the advantage and won 6-4.
#Clarke made good on her efforts in set two and dropped the visiting opponent 7-6(2). However, Bain outplayed her in the final set for a 6-1 victory.
#She was a bit winded after her long match but was ready for today's finals.
#"It was a good match and a great experience. In set one, I was being consistent and then in the second set it was 5-1 and I just started to lose consistency. In the third set I just stayed consistent," she said.
#Bain was happy to be in today's finals and kept her strategy simple – stay consistent and do not get upset.
#Mactaggart, the second seed, is slated to battle against Barbados' first seed Dimitri Kirton in the boys' singles finals.
#Kirton ended the third-seeded Alhil Cyril's hopes in yesterday's semifinals in two sets.
#He reeled in the win in consecutive sets, 6-2, 6-2.
#Kirton talked about what led to the victory to earn a spot in the boys' singles finals. "I played well and I was hitting my shots. I was playing well but another thing was he started to get mad and that was boosting me," he said.
#The 12-year-old continued to say that he was happy to be in the finals but is not overly happy because he now wants to win.
#Mactaggart worked hard for his finals spot against Brandon Bridgewater. He fought his way to a win after three tough sets.
#His opponent nabbed set one 6-4.
#However, the Bahamian turned in a 6-2, 6-0 win to shut down Bridgewater's finals ambitions.
#In the doubles matchups, fellow competitors Bain and Madu will pair up to take on Fluonia and Houlgrave for the girls' finals.
#Curaçao's Bridgewater and Barbados' Kirton team up to play against Alec Hooper and Mactaggart for the boys' doubles finals.
#The Bahamas' Caitlyn Pratt and Ayai Bethel took home the trophies for the boys and girls consolation finals. Due to impending inclement weather, the finals are set to begin at 8am.