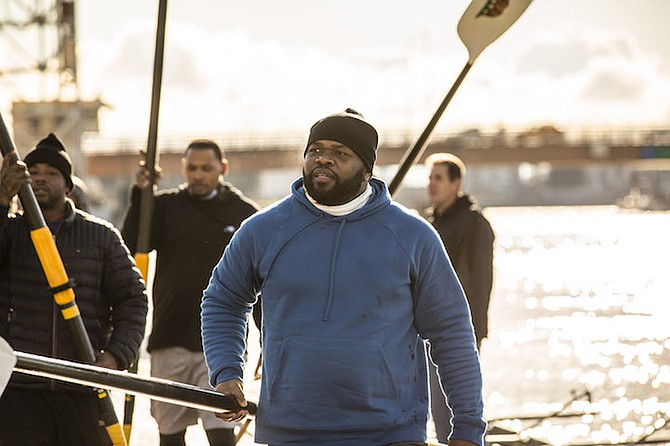 Arshay Cooper and teammates with Mike Teti on location in Oakland.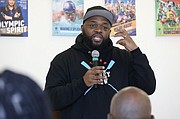 Arshay Cooper sharing his story.
#THE US Embassy Nassau has partnered with the Nassau Rowing Club to host Arshay Cooper's visit to The Bahamas July 18-22 to share how rowing can empower youth.
#Arshay's visit is part of the US Embassy's overall aim to "bridge the gap" through sports in The Bahamas.
#Sports provide an opportunity to bridge both the gender and education gaps seen among young people, especially young girls, who are often underrepresented in sports.
#Rowing provides an outstanding opportunity for young Bahamian girls to partake in sport and to access higher education in the United States.
#Arshay Cooper is an American rower, bestselling author and protagonist of the film "A Most Beautiful Thing." He will be interacting with various youth groups to share his story, discuss US scholarship opportunities and promote the sport of rowing.
#"Rowing was a life-changing experience for Arshay Cooper. It could present the same opportunity for many Bahamian youth as well," said US Embassy Chargé d'Affaires, Usha Pitts.
#"Rowing can open a path to university scholarships in the United States, similar to what exists for track and field, basketball and many other sports." The U.S. Embassy Nassau's partner, the Nassau Rowing Club (NRC), aims to also change young Bahamians' lives through sports and education. "Our goal is to increase access to and awareness of the sport of rowing among young Bahamians from under-resourced backgrounds and communities," said Kyle Chea, NRC Founder and President. He believes Bahamian rowers can add valuable diversity to U.S. universities' programs while providing Bahamians access to higher education.
#"Rowing ranks as having one of the lowest athlete-to-scholarship ratios. One core mission of the Nassau Rowing Club is to build a source of promising young rowers of color – particularly underprivileged and at-risk girls – for NCAA Division I and II rowing teams, while funding their education through sport, and changing their lives."
#The U.S. Embassy is also partnering with the Ministry of Youth, Sport, and Culture and the Lyford Cay Foundation to provide a special screening of the film, "A Most Beautiful Thing" and workshops for over 300 youth. These events will provide the public the opportunity to witness firsthand the positive impacts of rowing.
#The public is invited to attend a free evening screening, with special guest Arshay Cooper, on Thursday, July 20, from 7p.m. – 9 p.m at Fusion on Gladstone Road. If interested please register by Wednesday, July 19 at https://AMostBeautifulThingBAH.eventbrite.com
#The U.S. Embassy and Nassau Rowing Club also invites students between the ages of 13-18 to attend Rowing workshops on Friday, June 21, at the American Corner located at the Harry C. Moore Library at the University of The Bahamas. The workshop can accommodate 30 students per session. Sessions will run from 1:30 p.m. – 2:30 p.m. and 3 p.m. – 4pm.