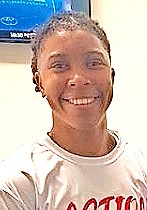 VALERIE Nesbitt
#By RENALDO DORSETT
#Tribune Sports Reporter
#rdorsett@tribunemedia.net
#VALERIE Nesbitt continues to be the model student athlete since she has reacclimated herself to the Ole Miss Rebels' women's basketball programme.
#Nesbitt, a general business major, was recently named to the SEC First Year Academic Honour Roll and was also an M-Club Student of the Month for July.
#The senior guard was one of five women's basketball players and 67 Ole Miss student-athletes on the 2019-20 First-Year SEC Academic Honour Roll.
#Each month the FedEx Student-Athlete Success Center staff selects five student-athletes for the M-Club Student-Athlete of the Month Award. Students are nominated by staff based on observed effort that goes above and beyond normal expectations and results in personal or academic achievement.
#In April, Nesbitt addressed the issues surrounding her dismissal from the programme last season alongside head coach Yolett McPhee-McCuin.
#McPhee-McCuin hosted a series of conversations on social media and Nesbitt was one of her guests, discussing changes in her behaviour since the surprising announcement last January, just 15 games into her tenure with the team.
#Nesbitt once again appears on the team's official roster for the upcoming 2020-21 season.
#"Where I went wrong was not being able to understand my flaws and weaknesses. I wasn't open enough to people that wanted to help me. I just knew within myself, I just wanted to do it my way and discipline is important, especially at this level and you need that structure. I didn't allow the people that were trying to help me to better myself, I was like trying to do it on my own so that's where I went wrong," Nesbitt said. "I was just comfortable in mediocrity, I just wanted to be comfortable all the time so when I got removed from the team I was in a bad place and I just wanted everything to change. I was tired of the same results all the time.
#"I always used to blame my coaches and I never saw I was the problem so I had to do a lot of self check. Self checking, that helped a lot so now that I know where I go wrong and where I went wrong I'm able to change it and allow people to help me."
#She was in the midst of making what appeared to be a seamless transition to NCAA Division I basketball following two years at the JuCo level. She led the Southeastern Conference in steals at 3.2 takeaways per game and had six games this season with at least four. She was the Rebels' second-leading scorer at 11.3 points a game and was also second in minutes played at 24.3 per game.
#At the time of January's announcement, McPhee-McCuin called it one of the toughest decisions she has made in her career.
#Nesbitt was the first Bahamian player signed by McPhee-McCuin in her tenure as the head coach of the Rebels. She has successfully recruited Bahamians to her programmes in the past – Jonquel Jones to Clemson and Shalonda Neely to Jacksonville.
#The Rebels will have the No.1 recruiting class in the SEC and No.13 class in the nation for the 2020-2021 season.