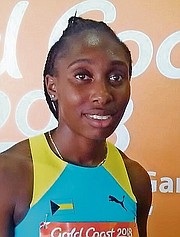 Anthonique Strachan
#By BRENT STUBBS
#Senior Sports Reporter
#bstubbs@tribunemedia.net
#With the Jamaican athletic scene turning to some sort of normalcy in the coronavirus pandemic, Bahamian sprinter Anthonique Strachan produced a couple of impressive results over the weekend in a series of Velocity Fest meets against some of the top female sprinters on the island.
#In the last of a pair of meets yesterday at the National Stadium in Kingston, Strachan, now training in Jamaica with the Maximising Velocity & Power Track and Field Club, had to settle for third place overall in the women's 200 metres.
#In the last of three heats, Strachan improved her season's best to 22.67 seconds to trail Jamaica's double Olympic champion Elaine Thompson-Herah, who powered home in 22.19 to fall short of the world leading time of 21.98 that Bahamian Olympic 400m champion Shaunae Miller-Uibo did last month in Florida.
#Fraser-Pryce, competing in heat two, set the stage with her time of 22.57, but she had to settle for second place overall behind winner Thompson-Herah and ahead of third place Strachan.
#The performances came one day after the fourth edition of the meets took place on Saturday when Strachan clocked 23.58 for her second straight victory in the half-lap race as she out-lasted Jamaican Samantha Curtis, who was second in 24.78. Strachan came back in the 100m and competed against Fraser-Pryce and Thompson-Herah, her training partners from the MVP Club since she has been in Jamaica for the past few years.Fraser-Pryce, coming off her fourth World Championship 100m title last year in Doha, Qatar, won the second of the three century races in 10.87, producing the fastest time in the world for 2020, surpassing the previous best by Miller-Uibo in a personal best of 10.98 last month in Florida like she did in the 200m.
#Thompson-Herah, the reigning Olympic 100-200m champion from Rio de Janeiro, Brazil, followed by taking the third heat in 10.88 for second place in the second fastest time.
#Strachan, competing in the same race with Thompson-Herah, was third in 11.46 for fifth place overall.
#"The 100 went better than I expected because I'm not really a 100-metre person," said Strachan of Saturday's races.
#"In the 200, I ran into a head wind, but I was still pleased with the time."
#With the fact that she's training with Thompson-Herah and Fraser-Pryce, Strachan said she's learning to run her races more controlled witbhout thinking too much.
#The IAAF 2012 Rising Star athlete of the year after her double sprint triumph at the World Junior Championships said she gets to focus more on herself and is not fearful running against her rivals.
#Earlier in the day, Fraser-Pryce ran in heat 2 where she posted the fastest time overall in 11.28, while Thompson-Herah took heat three in 11.41 for the 2nd fastest time.