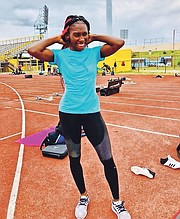 Anthonique Strachan
#By BRENT STUBBS
#Senior Sports Reporter
#bstubbs@tribuneedia.net
#COMING off her last meet on her 27th birthday when she was unable to finish her 100 metre race because of the cramps, Bahamian sprinter Anthonique Strachan returned to action on Saturday with another second place behind Jamaican double Olympic champion Elaine Thompson-Herah.
#Competing at the Velocity Fest #7 Meet at the Sports Development Foundation National Stadium on Saturday, Strachan came through the line in the women's 200m in 23.87 seconds to follow Thompson-Herah, who sped to victory in 22.79.
#Their Maximising Velocity & Power (MVP) Track and Field Club training partners Srabani Nanda (24.06) and Junelle Bromfield (24.33) rounded out the third and fourth spots.
#"Honestly, more could have been done, but it's been a tedious season, but it isn't over yet," Strachan said.
#"I still have to regroup and re-energise myself."
#After she suffered some cramps from a back problem she experienced during the 100m last week, Strachan said she was eager to compete again this weekend.
#"Usually I don't make it this far in the game, but I feel good due to the fact that I learnt a lot about team management this year and I am now learning to balance things out," Strachan said.
#"During the whole pandemic, isolation and quarantine and stuff like that, it could really be messing with your head, so I'm glad that I am learning how to deal with all off those situations now."
#On top of that, Strachan is getting the top notch competition that she would have expected had she been able to travel around the world to compete in the various meets on the World Athletics' campaign.
#When it's not Shelly-Ann Fraser-Pryce, the back-to-back World champion or Thompson-Herah, the reigning Olympic 100/200m champion, Strachan said being a part of the MVP stable has brought out the best in her.
#"We are training together, so it feels like training. It doesn't feel like a track meet," Strachan said.
#"So it takes a lot to get used to the fact that it's not training, but it's actually a track meet. So you have to get yourself in that competitive edge so that you can compete."
#Still in a celebratory mood from her birthday on Saturday, August 22, Strachan said she advised her training partners two weeks ago that she just wanted some cupcakes and ice cream and now she has a house full and she has to digest it in moderation as her season is still not complete. "We're supposed to go to Europe and do a few meets there in September before the season is done," Strachan said.
#"But we don't know exactly when we will be going."
#At this point in the coronavirus-plagued season that was disrupted from March when sports worldwide came to a halt, Strachan said she's pleased with the progress she made and it only bodes well for her future.
#"I ran my fastest times in six years, so even if I want to complain, I can't complain," said Strachan, who posted 22.6 in the half-lap race a couple weeks ago.
#"I'm better than where I was six years ago. So I have to be grateful for what I got.
#"Atleast I'm able to see that the work that I put in, I'm getting the benefits back from it. So I just have to work harder and train more to get the best out of my situation."
#And while she has made some drastic improvement in her speciality in the 200m, Strachan said she doesn't have any aspiration of concentrating on the double by adding the 100m or the 400m to her résumé. "You could look back at my start and look at it now and you can see that it has improved drastically, but I am not getting that quick reaction that is needed for the 100m," Strachan pointed out.
#"As for the 400m, I have been strong armed to run it.
#"I do intend to run some 400m to get some strength for the 200m, but I don't expect that my coaches will allow me to do it competitively at the major international meets."
#With the latest improvements coming out of Jamaica with regard to legendary sprinter Usain Bolt, Strachan said he's in isolation and according to his long-time friend and rival, Asafa Powell, he doesn't have any symptoms, but he's progressing.
#"It's a good thing I didn't go to the party to celebrate," said Strachan, who like many of the current athletes didn't attend the bash that took place to commemorate the superstar's 34th birthday.
#Strachan, who has moved to Jamaica in 2018 to help rejuvenate her career, said she's practicing the safety protocols of wearing her mask, washing her hands and keeping her 3-6 feet spacing.