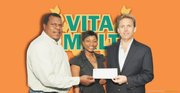 CHEQUE PRESENTATION: Shown (l-r) are Dennis Hanna, Vitamalt group retail business manager, Stacy Mackey, Vitamalt brand manager and Brian Moodie, president of Marathon Bahamas.
#As thousands of local and international participants cross the finish lines at Sunshine Insurance Race Weekend 2013's Marathon Bahamas and the Susan G Komen Bahamas Race for the Cure, they will be greeted with an ice cold Vitamalt beverage.
#Known for its nutritional value and rich malty flavour, Vitamalt has signed up as the official malt beverage for Race Weekend 2013 January 19-20.
#As a silver sponsor of Race Weekend, Vitamalt will provide runners with a much needed energy boost and replenishment immediately after the races.
#Vitamalt brand manager Stacy Mackey noted that Vitamalt is a great natural source of Vitamin B Complex, minerals, nutrients and antioxidants. Whether you are working, studying, playing sports or exercising, Vitamalt provides the refreshment and energy that is needed."
#Mackey said Marathon Bahamas and the Susan G Komen Bahamas Race for the Cure provide an opportune time to partner for a worthy cause.
#Thanking Vitamalt for joining the list of sponsors for Race Weekend 2013, Brian Moodie, president of Marathon Bahamas, indicated that the event continues to grow and gain momentum.
#"As the official malt beverage of Race Weekend 2013, we are happy to have Vitamalt join us and no doubt our runners will have a much needed, refreshing, energy boost."
#Sunshine Insurance Race Weekend is in its fourth annual running of the marathon, half marathon, relay and its third running and partnership with the Susan G Komen Bahamas Race for the Cure 5K. Marathon Bahamas has become the pre-eminent endurance event of the country.
#This year's event features runners from 20 countries and 27 states and is supported by a large volunteer contingent from every walk of Bahamian life.
#Moodie said "The Susan G Komen Bahamas Race exceeded the 1,300 mark in 2012 is trending even higher. This annual event not only raises money for the beneficiaries but also bring attention to the dreaded disease that affects so many of our Bahamian women."
#Mr Moodie added that one hundred per cent of the money raised by the Race for the Cure will remain in the Bahamas to fund breast cancer and women's health programmes.
#Beneficiaries for the events are The Cancer Society of The Bahamas, The Princess Margaret Hospital Foundation, Sister Sister Breast Cancer Support Group, The Bahamas Breast Cancer Initiative and the Cancer Association of Grand Bahama.