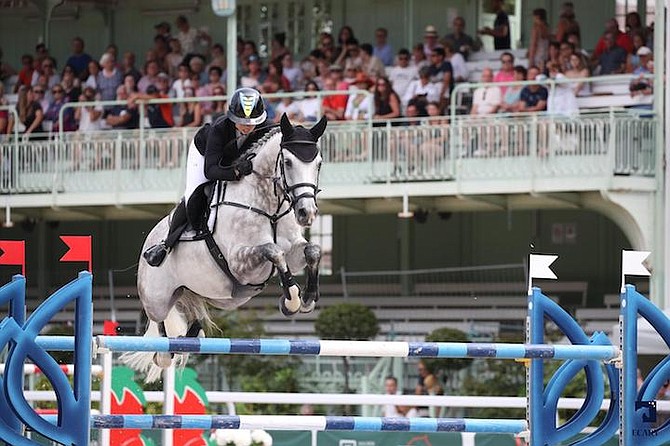 MILLIE Vlasov and Gulliver du Saint-Chene have a clear first round in the CSI2* 1.45m Grand Prix at the Jumping International de Vichy event in Vichy, France.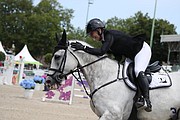 SMILES and tears of joy as Vlasov's performance makes her the first Bahamian ever to achieve the Longines World Rankings in show jumping.
#MILLIE Vlasov achieved the most significant milestone yet in her equestrian career, becoming the first Bahamian show jumper to earn a place in the Longines World Rankings as a result of her placing in the 26.000 CSI2* 1.45m Grand Prix at the Jumping International de Vichy event in Vichy, France, aboard Gulliver du Saint-Chene.
#Out of a field of 54, the pair were only one of 15 to jump clear over French course designer Jean-François Gourdon's challenging first round track, completing the course in 74.12 seconds.
#An unlucky rail down on the second fence of the jump-off cost Vlasov four faults. Despite this, a series of tight, nimble turns between the fences helped to shave off extra seconds, a successful strategy that landed her in the prize money – and, for the first time, in the Longines World Rankings.
#The Longines Rankings are the way the governing body of equestrian sport, the FEI, ranks the best riders in the world. The list is updated weekly.
#To be eligible for Longines Ranking points, riders must place in competitions meeting certain requirements with regards to fence height, technical difficulty and prize money.
#Competitions are divided into groups depending on the level of each.
#Vlasov's performance earned her a spot in three categories. As well as the Longines Rankings, she is also now ranked in the FEI Jumping U25 Ranking and in the Pan-American Rankings.
http://www.tribune242.com/news/2022/jul/18/vlasov-achieves-longines-world-rankings/?news