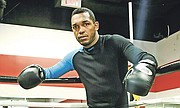 Tureano 'Reno' Johnson
#By RENALDO DORSETT
#Tribune Sports Reporter
#rdorsett@tribunemedia.net
#TUREANO Johnson is set to get back in the ring in short order and compete in the WBA eliminator for the middleweight title.
#According to Golden Boy Promotions officials, Johnson (21-2-1, 14 KOs) is scheduled to face Magomed Madiev (13-0-1, 4 KOs) with a tentative date set for November.
#The aftermath of Hurricane Dorian halted Johnson's plans to begin his training camp, originally scheduled for August 26 in Atlanta.
#"This is a very scary time for all of us. So many of our great friends and families have lost their lives and belongings. This is a horrifying moment," Johnson told BoxingScene.com.
#"Boxing has given me a platform and a voice to reach people, and I encourage everyone to help and support with any kind of donations. I'm asking all of my friends and colleagues in the boxing world to assist in any way. My country is in dire need of monetary and tangible support."
#Johnson's last appearance was a win over Jason Quigley last July for the NABF middleweight title.
#"Madiev is a fast and crafty fighter. He's strong and slick – somewhat of a European Floyd Mayweather," said Johnson.
#"But he's a very beatable opponent. We're going to expose his flaws. I'm brushing up on my tools, and no one will be able to withstand that. I'll be ready, regardless of my situation right now dealing with the hurricane."
#A win over a ranked opponent will move Johnson one step closer to regaining his status among the elites in the division and an opportunity to face WBA champion Ryota Murata of Japan.
#In July, Johnson defeated Ireland's Jason Quigley via 9th round stoppage in the 10-round main event of the Golden Boy DAZN Thursday Night Fights at Fantasy Springs Casino in Indio, California.
#The 35-year-old handed the 28-year-old Quigley (16-1, 12 KOs) the first defeat of his professional career.
#He has battled several injuries recently, with just three fights in three years hampered by nagging shoulder issues.
#He called this bout a career-defining moment.
#Quigley's trainer Dominic Ingle stopped the fight just ahead of the 10th round bell to give Johnson the title.
#"I'm here to be a world champion," Johnson said,
#"Whoever got those belts, I want a Charlo, I want a Canelo, I want all of them!"