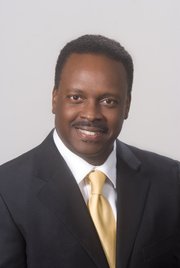 Minister of youth, sports and culture, Dr. Daniel Johnson.
#By RENALDO DORSETT
#Sports Reporter
#rdorsett@tribunemedia.net
#WHILE the development of infrastructure dominated much of his contribution to the 2013/14 Budget debate, Minister of Youth, Sports and Culture Dr Daniel Johnson also outlined several areas of sport which will be impacted under his ministry's portfolio.
#A greater scrutiny on local sporting organisations, a reassessment of the elite athlete subvention programme, and further assistance at the College of the Bahamas are issues that will be immediately affected by what Dr Johnson called his administration's "developmental budget."
#"My ministry recognises the need for continued friendship and partnership with sports and civic organisations alike. These organisations are able to extend the reach of the government into areas of sport that we would not normally go into. The public is advised that we are expecting and requiring a greater degree of accountability once again levelling the playing field," he said. "Grants awarded to organisations will be issued up to the recording obligation time and we would like to ask people that if you are receiving public funds, we would like for you to give the public some account. All reports will be carefully scrutinised to determine their authenticity and we ask people to also show us your developmental agenda. This is a developmental budget and we are focused on young people in developmental agendas."
#The Elite Athlete Subvention programme, which has fluctuated in growth over the years, including a 10 per cent decrease in 2011 and new additions in 2012, will be reviewed in 2013.
#"We are pleased we have had this ongoing relationship of athlete subvention which provides financial assistance for the development of our elite athletes all around the world and they go on to represent our country in various core sports," he said. "However we know that there is much more that we can do and there is much more to be done. The programme will be reviewed this year to ensure that it meets the criteria and we must step up to it. That includes athletes making themselves available to represent the country on national teams when required."
#In May, the government presented the College of the Bahamas with a financial contribution for their student athlete scholarship programme.
#Dr Johnson said the ministry looks to continue to support the programme which he said has significant implications for the development of athletics in the Bahamas.
#"It is not that well known that the Ministry of Youth, Sports and Culture pays a lot of attention to its student athletes and although we got some flack about cutting the budget to COB, I also want the public to know that this ministry remains the single largest external contributor to the athletic department of the College Of the Bahamas," he said.
#"Thus far the ministry has contributed over $400,000 to this total programme, inclusive of $82,000 received last month. This goes toward scholarship funds for student athletes and, since the implementation of this programme, the college has nurtured 14 student athletes who have made national teams in basketball, track, soccer and volleyball. Currently, of 82 student athletes at COB, 57 of them receive aid from the ministry and of those athletes 13 of them came from family islands."