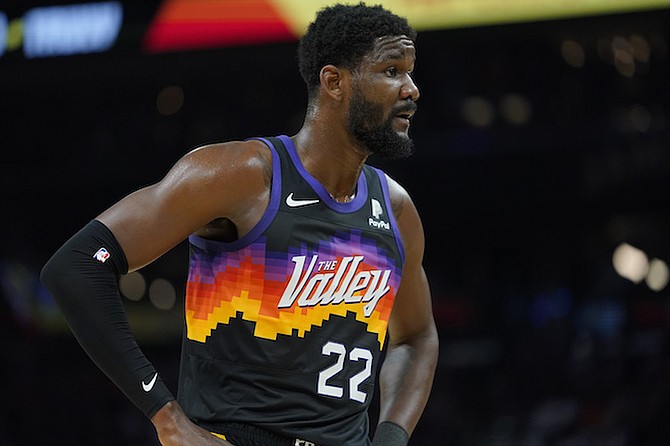 PHOENIX Suns centre Deandre Ayton (22) looks away after being fouled during the first half of Game 7 of an NBA basketball Western Conference playoff semifinal against the Dallas Mavericks. The Suns were eliminated. (AP Photo/Matt York)
#By RENALDO DORSETT
#Tribune Sports Reporter
#rdorsett@tribunemedia.net
#DEANDRE Ayton played sparingly in his Phoenix Suns' worst playoff loss in franchise history which prompted many to revisit a lingering and unresolved contract negotiation between the team and its former no.1 overall pick.
#Ayton appeared in only 17 minutes of the Suns' 123-90 elimination loss to the Dallas Mavericks in game seven of the Western Conference semifinals Sunday night at the Footprint Center in Phoenix, Arizona.
#He finished with just five points, four rebounds and two assists. Suns' head coach Monty Williams told reporters postgame that Ayton's limited playing time was the result of an "internal" decision and did not expand on the matter.
#Ayton declined postgame media availability.
#He had just one shot attempt in the first quarter (2-5 for the game) and exited the game after he was called his third foul near the four minute mark in the second quarter. The Suns trailed by 18 when Ayton left the floor and was replaced by Bismack Biyombo.
#Over the first six games of the series, Ayton averaged 17.5 points and 8.8 rebounds per game while shooting 60 percent from the field.
#In his fourth season, the 23-year-old centre averaged 17.2 points on a career high 63 percent from the field and 10.2 rebounds per game in 58 appearances.
#Attention this offseason will return to Ayton's contract situation with the Suns as he enters restricted free agency (RFA). As an RFA, Ayton is free to sign an offer sheet with another franchise but the Suns would still have the ability to match the deal and retain his rights if they choose to do so.
#Ayton also has the option of playing next season under a one year qualifier and become an unrestricted free agent the following season in 2022-23.
#Contract negotiations between Ayton and the Suns reached an impasse last April after both sides failed to reach an agreement on a rookie contract extension. He was eligible for a five-year, $172.5m extension that could have reached as much as $207m if he reached benchmarks and incentives.
#Last offseason, the Suns reached extensions with veteran point guard Chris Paul – a four year deal worth up to $120m; Ayton's fellow 2018 draftee Mikal Bridges – a four year deal worth up to $90m and newly acquired guard Landry Shamet – a four year deal worth $43m.
#Several players in Ayton's 2018 NBA draft class have received max contract extensions including Trae Young of the Atlanta Hawks, Luka Doncic of the Dallas Mavericks, Shai Gilgeous-Alexander of the Oklahoma City Thunder, Jaren Jackson Jr of the Memphis Grizzlies, Kevin Huerter of the Atlanta Hawks, Michael Porter Jr of the Denver Nuggets.
#"We were two wins away from a championship," Ayton said following a preseason practice session, "And I just really want to be respected to be honest, like my peers are being respected by their teams."
#TMZ Sports first reported that Ayton and Suns owner Robert Sarver met at Sanctuary Camelback Mountain Resort in Phoenix prior to the extension deadline as negotiation talks ramped up but that meeting failed to produce a deal.
#Ayton has career averages of 16.3 points and 10.5 rebounds per game in 236 games as a Sun. He is the fastest player in franchise history to reach 100 double doubles and was also the fastest player in franchise history to collect 1000 rebounds for his career (94 games).
#According to StatMuse, Ayton was the first player in NBA history to average at least 15 points and 10 rebounds per game on 65 percent field goal shooting in a single playoff run (10 games minimum).