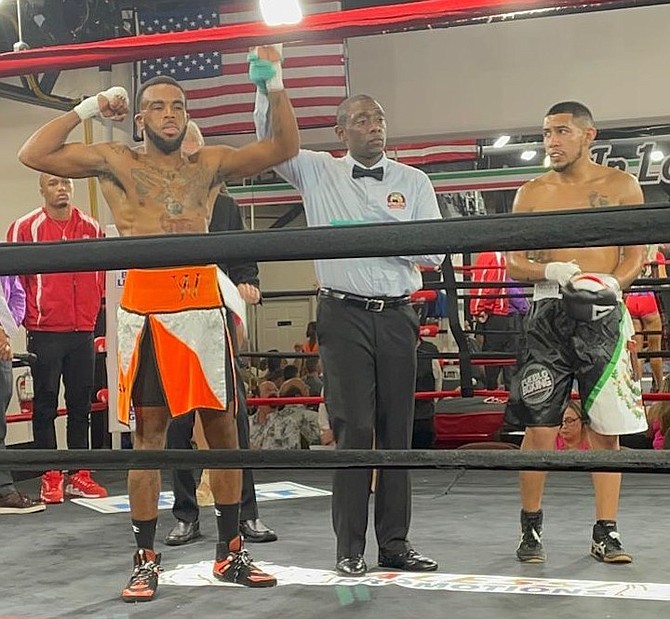 RASHIELD Williams' arm is raised by the ring referee after he won his fight on Saturday.
As of Tuesday, September 20, 2022
#By BRENT STUBBS
#Senior Sports Reporter
#bstubbs@tribunemedia.net
#AFTER taking a brief break from competing at the Commonwealth Games, Rashield Williams returned to the pro ranks where he secured another impressive victory.
#On Saturday, Williams stopped American Daniel Arriaga one minute and 25 seconds in the second round of their welterweight bout at the Alessi Gym Fitness Center, Tampa, Florida.
#It was Williams' fifth straight victory in seven fights since making his pro debut on February 9, 2019 against Carlos Monroy. Williams then suffered his first and only loss on March 22, 2019 against Javaune James before he reeled off his next five bouts, including Saturday's win over his southpaw opponent Arriaga.
#"The fight went very good. I went in there and I picked my shots," said Williams of his latest performance.
#"I dropped him twice in the first round and in the second round, I stopped him."
#With a hook and a straight right to the head of James, Williams sealed the deal. "I stopped him. It was a TKO, but I didn't get a chance to catch him as clean as I wanted to," Williams said. "But thank God for the TKO win. I accept it."
#Williams, coming off his loss in his only match he competed in during the Commonwealth Games in Birmingham, England in August when he had to shed about 11 pounds to make the weight, said he was delighted to be back in his comfort zone. "It was real nice. It was really exciting to get back in the ring," said Williams, who resides and trains out of Miami, Florida. "I was really anxious, I couldn't wait. It was a great feeling."
#Williams, a 33-year-old orthodox fighter, is expected to be back in the ring next month when he competes in his eighth fight and hopefully secures his sixth straight victory.
#Arriaga, 32, dropped to 2-5-2 with his third consecutive loss
http://www.tribune242.com/news/2022/sep/20/williams-win-column/?news