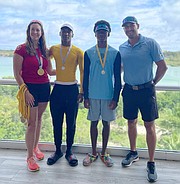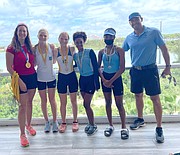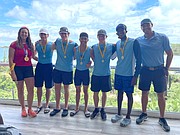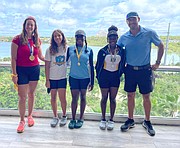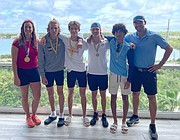 #By BRENT STUBBS
#Senior Sports Reporter
#bstubbs@tribunemedia.net
#THE collaboration between the Nassau Rowing Club and the Windsor High School Rowing Team, both coached by Canadian Olympic champions, produced a competitive inaugural Lake Cunningham Classic on Saturday on Lake Cunningham.
#The dual competition was won by Windsor High, coached by Rob Gibson, a 2012 Olympic silver medallist, but the Nassau Rowing Club, coached by Andrea Proske, a two-time World Cup medallist and an Olympic medllist, made it a stiff challenge.
#The event also served as the Nassau RC's qualifier for the team that will be compete at the CanAmMex in Canada in July.
#Vivian Profitt, the social and events coordinator for the Nassau RC, said while this was the first time they hosted the event, they plan to make it an annual affair.
#"Even though it's two different clubs, they both train together, but today was a qualifier for the Pan Am in Canada in July," she said. "So the kids were basically fighting for a spot on the team. It was very exciting."
#Isiah Ellis, a 14-year-old ninth grader at Windsor in the Junior Men's Single Sculls in six minutes and 39 seconds. Kenneth Hart was the runner-up in 7:02.
#"I made sure that I had a clean path on the water and I finished strong," Ellis said. "It was a great experience competing in the first regatta for the Bahamas. It's a great environment. I love all of the classes. It's a great school."
#In the junior women's doubles sculls, sisters Jessica and Poppy Profitt emerged as the winners in the junior women's double sculls in 6:43 over the Windsor duo of Anjaleah Knowles and Bianca Johnson, who finished in 8:07.
#"I think we did great. We worked a long time towards it," said Jessica Profitt, the oldest sister at age 15. "We had some really good coaches in the past couple of weeks, like Olympians and high volume coaches so that really helped us get to where we are.
#"We enjoyed going out and doing our best. We had a lot of fun coming together and competing with each other. It was a like community thing in rowing."
#Poppy Profitt was just as thrilled about their performance.
#"We really learned a lot from the coaches. In the beginning, we were really enthusiastic, so that really helped," said Poppy Profitt.
#"I really liked how the Nassau Rowing Club and Windsor Academy came together. I think it really helped us because we can only grow the sport."
#In the junior women's single sculls, Crachante Laing, an 18-year-old 11th grader at Windsor High, won the race in 7:09. She was followed by Breanna Gayle in 7.27 with Leah Bethel taking third in 7.39.
#"It was really unexpected because you really didn't know how it was going to be because it was our first time doing something like this, but it went off very, very smoothly," Laing said. "For me personally, there was a lot of adrenaline at first. I didn't know what to expect.
#"These are girls that I don't normally practice with, so I didn't know their strokes and how competitive they were, but it was so surreal when I won. If you could have heard me, I was shouting 'yes, yes' when I saw the gap I had and I did in fact win."
#Harrison Schindel and Will Watson combined to capture the junior men's double scull in 6.05.
#Carl Van Gemerden and Sandor Bianchi got second in 6.30. "We're great together because we have the actual same height and we both weigh the same and we care a lot about the sport," said Watson, a 17-year-old ninth grader at Lyford Cay.
#"It was some good competition, very friendly. We all worked together.
#"It was a friendly, good atmosphere."
#Schindel, born in Canada, has been at Lyford Cay School for the past year and he was pleased to share in the victory.
#"I feel like when we get on the water, we are in our own zone," Schindel said. "We just go out there and do it all.
#It was an amazing competition, especially seeing my team-mates from the Nassau Rowing Club getting in some competition from the Windsor High. It was really nice."
#There was also a showdown dubbed the Windsor Junior Men's Coxed Four versus the Nassau RC Men's Quadruple Scull that saw the team of Matthew Simms, Sam McCullery, Harry Winchester and Jake Young prevail in 6.12 over Kameron Taylor, Ellery Cartwright, Jamal Hanna and Harper Romer, who finished second in 6.30.