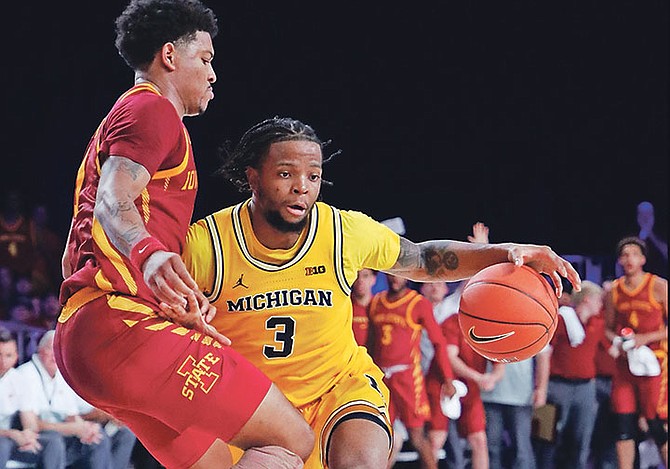 Xavier Simpson in action for Michigan against the Iowa State Cyclones.
#By RENALDO DORSETT
#Tribune Sports Reporter
#rdorsett@tribunemedia.net
#The opening session of the Bad Boy Mowers Battle 4 Atlantis produced another edition of the rivalry between two of college basketball's most iconic programmes.
#Both the No 6 North Carolina Tar Heels and the Michigan Wolverines will put their undefeated streaks on the line today when they face off at the Atlantis resort's Imperial Arena.
#Michigan began the tournament with an 83-76 win over the Iowa State Cyclones while the Tar Heels defeated the Alabama Crimson Tide, 76-67.
#Under first year head coach Juwan Howard, the Wolverines are off to a 5-0 start.
#Despite their 22 turnovers, including several coming down the stretch as the Cyclones (3-2) tried to claw their way back from a 15-point deficit in the final 8 minutes, Michigan held on for the win. The Cyclones pulled within six, 80-74 lae in the second half, but we unable to pull any closer.
#Isiah Livers led Michigan with 17 points.
#The Tar Heels are the top rebounding team in the nation and looked the part in their opening round win.
#Armando Bacot led the team with 12 points and a season-high 15 rebounds.
#They nearly doubled the Crimson Tide to finish with a 60-31 edge on the glass, with those 60 rebounds setting an Atlantis tournament record.
#"That's just been his emphasis since day one," Bacot said of coach Roy Williams. "I feel like every game we're getting better and better at crashing the offensive glass. … I think we're continuing to get better and you'll see the offensive rebounds and defensive rebounds keep going up every game."
#North Carolina and Michigan have met in each of the past two seasons. The Wolverines hosted last year's contest in Ann Arbor, Michigan and came away with a convincing 17-point win. North Carolina won their home matchup the previous year in Chapel Hill.
#"Overall we are really excited about being here in The Bahamas for the Battle 4 Atlantis. This is Michigan's second time and my first and we are looking forward to the match-up. Overall this will be a great experience for our team to compete in some high-level competition. We know it's a very high level and tough competition, but we are built for the competition. We prepared for this," Wolverines head coach Juwan Howard said, "This is a beautiful island and the people here are so warm and inviting and they have done an excellent job of just opening up their island and just showing us how special this island is. I think it's beautiful that the Michigan family has embraced this opportunity and we are just looking forward to each and every day and I know on Saturday there will be some sad faces, not because we are going back to a colder Michigan, but because we are leaving a beach and ocean – thank you Bahamas!"
#The 2019 B4A, which runs through November 29, will feature another outstanding field, which also includes the Gonzaga Bulldogs (WCC), the Seton Hall Pirates (Big East) and Oregon Ducks (PAC 12) and Southern Mississippi Eagles (C-USA).
#Four members of the field are currently ranked in the top 10 of the Associated Press Top 25 Poll including No 6 North Carolina, No 8 Gonzaga, No 11 Oregon and No 13 Seton Hall.