OLYMPIC SPRINTER ADDRESSES RED LINE ATHLETIC TRACK CLUB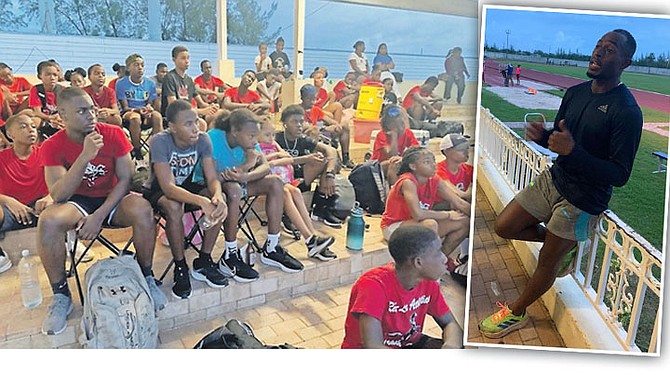 SAMSON Colebrooke speaks to members of the Red Line Athletic Track Club.
As of Friday, October 14, 2022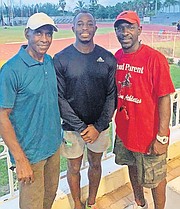 SAMSON Colebrooke (centre) with Red Line Athletics' coaches Tito Moss and Michael Armbrister.
#By BRENT STUBBS
#Senior Sports Reporter
#bstubbs@tribunemedia.net
#EXUMA native Samson Colebrooke said if he can make it to the Olympic Games, more Bahamians could and should aspire to do the same thing.
#Back home on a break from his training in Florida, sprinter Colebrooke addressed members of the Red Line Athletic Track Club on Thursday following their workout session at the original Thomas A. Robinson Track and Field Stadium.
#In his address, Colebrooke encouraged the athletes to follow three important ingredients and they can be just as successful as him, or even surpass what he did.
#The second fastest Bahamian sprinter with a lifetime best of 10.01 seconds that qualified him for the 2020 Olympic Games – held in 2021 in Beijing, China – said the athletes have the potential, they just need to persevere.
#"As you train this year, there are three things I want you to do," Colebrooke told the gathering of athletes, coaches and parents in the VIP section of the stadium. "If you do these three things, who can become successful."
#"Have discipline in your school work, discipline on the track and discipline in the things that you do at home," Colebrooke stressed.
#"You have to be dedicated to school and dedicated to practice," he stated. "If you are not dedicated, you are just wasting the coach's time and your parents' time. Every time you step on the track and on the grass, be dedicated in what you want to do. Go out there and work hard. Do your best. Even though it might seem hard and tiring and it seems like you want to give up, don't give up. Keep pushing and keep working hard."
#"Be determined on what you want to achieve in life. Be determined that if you want to be the best, go out there and be the best," he said. "If you want to go to college, work to go to college. If you want to be a professional athlete, work on becoming a professional athlete."
#Samson said he was able to prove most of his critics wrong who didn't believe that he could run 10.01 by accomplishing the feat twice, first on July 5, 2019 at the NACAC Under-23 Championships in Mexico City and then again on April 9, 2022 at the Atlanta Track Classic in Atlanta, Georgia.
#"You can do it bigger and better than me," Colebrooke assured the audience of high school athletes.
#He further advised the athletes never to "give up on your dreams. Let no one tell you that you can't do it. You be your biggest encourager. You be your biggest promoter and encourage yourself to be the best you can be."
#With faith, trust and belief, Colebrooke assured the athletes that they can enjoy a successful track season and hopefully be in a position to represent the Bahamas at the 50th anniversary of the Carifta Games that will be staged in The Bahamas in April.
#Additionally, Colebrooke said he hopes that some of the senior athletes on the team will aspire to become members of the men and women's national relay teams that will get to compete in the next World Championships and the Olympic Games in 2024 in Paris, France.
#Colebrooke, a 25-year-old graduate of Purdue University where he was coached by Bahamian head coach Norbert Elliott, finished seventh in his heat of the men's 100m at the 2020 Olympics in 10.33 and at the 2022 World Championships, he was fifth in his heat in 10.23.
#His time of 10.01 is second on the Bahamian all-time list behind national record holder Derrick Atkins, who did 9.91 for the silver at the World Championships in Osaka, Japan in 2007 when he trailed American Tyson Gay (9.85) and was ahead of Jamaican Asafa Powell (9.96).
http://www.tribune242.com/news/2022/oct/14/words-inspiration-samson-colebrooke/?news