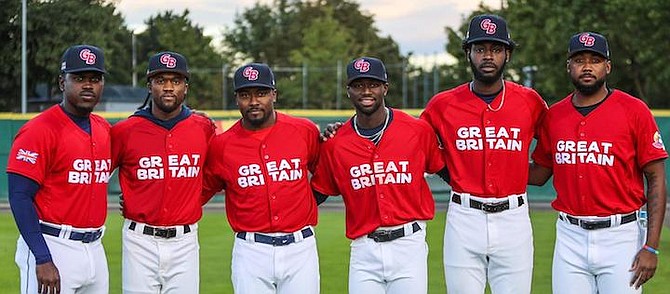 SHOWN, from left to right, are Bahamian players on Team Great Britain – Ural Forbes, Anfernee Seymour, Albert Cartwright, D'Shawn Knowles, Tahnaj Thomas and Chavez Fernander.
As of Tuesday, October 18, 2022
#By RENALDO DORSETT
#Tribune Sports Reporter
#rdorsett@tribunemedia.net
#THE World Baseball Classic Pools have been finalised and the Bahamians on Great Britain's roster now know their path toward further history making milestones at the event.
#The World Baseball Softball Confederation made the official announcement yesterday and Great Britain will play in Pool C, hosted March 11-15, 2023 in Phoenix, Arizona, alongside the United States, Mexico, Colombia and Canada.
#The tournament will be hosted from March 8-21 across several venues.
#Pool A (Chinese Taipei, Netherlands, Cuba, Italy, Panama) will compete at Taichung Intercontinental Baseball Stadium in Taichung, Taiwan.
#Pool B (Japan, Korea, Australia, China, Czech Republic) and tournament quarterfinals will take place at the Tokyo Dome in Tokyo, Japan.
#And finally Pool D (Puerto Rico, Venezuela, Dominican Republic, Israel, Nicaragua), quarterfinals, semifinals and championship will take place at loanDepot Park in Miami, Florida.
#Great Britain is one of three teams in the field that advanced to the WBC for the first time while another will be playing in it since the first time since 2009.
#Led by the Bahamian contingent, the programme recently advanced to the WBC for the first time in programme history, with its undefeated performance at last month's qualifier in Regensburg, Germany.
#The Great Britain roster included outfielders Anfernee Seymour, D'Shawn Knowles, pitchers Tahnaj Thomas and Chavez Fernander, catcher Ural Forbes and Albert Cartwright as a member of the coaching staff.
#Seymour led the tournament in several offensive categories while Knowles had one of the team's best offensive performances in the finale in Regensburg, Germany.
#Seymour recorded the most hits (seven) runs (six), stolen bases (five), and was only one of two players in the tournament to record a triple.
#He also finished tied for fifth in the tournament with five RBI and hit .583, with a .643 slugging percentage and 1.393 OPS.
#Knowles finished the qualifiers tied for third with six hits, four runs scored, one home run, and four RBI. He hit .500, with an .833 slugging percentage, .800 OBP, and 1.000 OPS.
#After a three-year gap between the first two installments of the tournament, plans were made for the World Baseball Classic to be repeated every four years following the 2009 event.
#The third installment of the Classic was held in 2013, and the fourth was held in 2017.
#The fifth, originally scheduled for 2021, was postponed due to the COVID-19 pandemic.
#The tournament is being expanded from 16 to 20 national teams, with all teams that participated in the 2017 edition automatically qualifying, plus four additional spots.
http://www.tribune242.com/news/2022/oct/18/world-baseball-classic-pools-finalised/?news