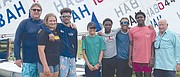 SHOWN, from left to right, Andrew Higgs, team leader, Ellianne Higgs, Norman Cartwright, Nash Cartwright, Craig Ferguson II, AIden Sumner, Aiden Wilson and Robert Dunkley, team coach. Photos courtesy of Andy Roy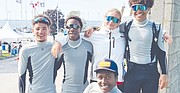 TEAM EFFORT: From left to right, Norman Cartwright, Craig F Ferguson II, Ellianne Higgs, Aiden Sumner and Aiden Wilson.
#FIVE young Bahamian sailors competed in the ILCA 6 class at the Cork International and Olympic Regatta as part of the August Regatta Series in Kingston, Canada, August 8-11.
#The August Series starts with the CORK International Optimist Regatta held August 3-6, in which Patrick Tomlinson, current Bahamian national optimist champion, achieved podium position as 5th overall, tied with 3rd and 4th place finishers.
#The five ILCA 6 Bahamian sailors include Norman Cartwright, gold medal winner in the ILCA class event at the recent Bahamas Games, Ellianne Higgs, also a gold medal winner as top female ILCA sailor in the Bahamas Games and Craig Ferguson II, a bronze winner in the ILCA class at the recent Bahamas Games. He was the only Bahamian to finish in the Gold fleet, finishing 2nd in one of his races, 22nd overall and 19th in the youth division out of 145 sailors.
#Norman Cartwright and Ellianne Higgs each had a top 5 in their fleet to finish 14th and 20th in Silver respectively. Competing internationally for the first time are Aidan Sumner and Aiden Wilson, who also recently qualified as junior sailing instructors and have helped run summer sailing camps with the Bahamas National Sailing School.
#Wilson and Sumner – in Bronze fleet – also each had a top 5 finish in one race to finish 12 and 21. The team returned home yesterday.
#Since 2000 alone, CORK has hosted dozens of North American and World Championships out of Portsmouth Olympic Harbour. The area offers some of the best fresh-water sailing in the world, excellent wind and wave conditions, and is a short distance from shore to the race courses.
#With a total participation of more than 1,000 boats, the CORK August Regatta Series is a magnificent sailing festival, attracting sailors from all over the world. Accompanying the young sailors was coach Robert Dunkey who said "all of our junior sailors have been training hard in the last few months to prepare for the Cork Regatta."
#Competing internationally provides invaluable experience and for many will be the largest fleet they have competed in and a very different environment to their home venue of Montagu Bay.
#Also competing internationally this month is Joshua Higgins from Harbour Island in the Olympic Class ILCA 7 event at the Allianz World Championships in The Hague, Netherlands.
#Races were being held from yesterday until August 20. The ILCA 6 is a smaller version of the Olympic class ILCA 7 dinghy.