'We Have A Very Short Programme, But A Very Intensive Programme'
As of Tuesday, January 7, 2020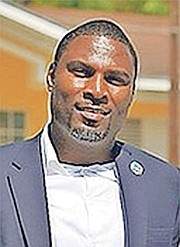 BAAA President Drumeco Archer.
#By BRENT STUBBS
#Senior Sports Reporter
#bstubbs@tribunemedia.net
#WITH more focus on a lengthy international campaign, the Bahamas Association of Athletic Associations will run a shortened local season in 2020. But president Drumeco Archer anticipates that it will still be action-packed.
#"We have a very short programme, but a very intensive programme," said Archer following the completion of the BAAA Odd Distance Track Meet at the Thomas A Robinson Stadium on Saturday. "We don't have as many local meets as we've had last year, but they are all very important meets and that is to get our athletes prepared for the CARIFTA Games, the World Indoors, World Juniors and the Olympic Games. We are very focused on developing our calibre of athletes to compete on the world stage."
#Following the Odd Distance meet on Saturday, the BAAAs' first full-fledge meet will take place this weekend as the T-Bird Flyers Track Classic is held on Friday, starting at 2pm and Saturday at 1pm.
#Athletes will be preparing to qualify for the IAAF World Indoors, scheduled for March 13-15 in Nanjing, China, followed by the CARIFTA Games, set for April 11-13 in Hamilton, Bermuda.
#The Penn Relays is on for April 23-25 in Philadelphia, the 12th IAAF World Under-20 Championships will run July 7-12 in Nairobi, Kenya and of course the Olympic Games will take centre stage July 24 to August 8.
#"We have a commitment already from Steven Gardiner so we feel we will be able to put together a wonderful team to compete in the men's 4 x 400m at the World Indoors," Archer said.
#"We have training camps going on and athletes are making the marks, so we have a huge stable of quarter-milers trying to make the relay team, so I'm excited about that.
#"The Bahamian people are always concerned about how we perform in the relays, so we will demonstrate that."
#Not only does Archer feel that the Bahamas will be ready to compete at the World Indoors, but look for the men's team, as well as the women's 4 x 100 and possibly 4 x 400m teams competing at the Olympics.
#"We have a number of athletes who have consented to compete on the relay teams, so we feel confident that by getting them together to compete at the right time, we will qualify teams to compete at the Olympics," Archer stressed.
#As for the juniors, Archer said with the performances he's seen so far, the Bahamas should be poised to feel a very strong team for the Carifta Games. He anticipates that the BAAA should be able to field at least a 50-member strong team to compete against powerhouse Jamaica.
#"This will probably be the most balanced team that we will be taking to Bermuda," said Archer, noting that they will be relying on Grand Bahamian Terrance Jones and Jaida Knowles and Anthaya Charlton to be leading the squad.
#Once again, Archer said the BAAA will only be taking athletes who have attained the qualifying standards to compete at Carifta. However, he said they have made an exception for the relay teams and in the 100 and 400 metres, they have established a B standard that will allow athletes to be abler to join the team for relay purposes.
#"If we have two athletes that make the A standard, then we will take two athletes who make the B standard so that they can make up the relay team," he disclosed. "That's the only exception."
#From Carifta, Archer said they will then field the team that will carry the national flag at the IAAF World Under-20 Championships in Nairobi, Kenya from July 7-14.
#"I come to the track every day and I watch all of the athletes and the intensity is very intense," Archer said. "I believe we will have some different faces at Cariftqa because they are hungry to make the team.
#"We also believe that the athletes understand that they have to earn their sport, so even though the pill was a bit difficult to sallow, I believe the medicine did the job, so there is a different mindset from our athletes."
#In regards to the senior athletes, Archer said their standards have been set by the IAAF and so it's just a matter of whether they attain them or not to determine if they make those international teams.
#The BAAAs schedule is as follows:
#January 10-11 – T-Bird Flyers Track Classic
#January 18 – Marathon Bahamas
#January 25 – DTSP Wolfpack Invite
#February 1 – Star Trackers
#February 7-8 – LN Coakley Invite
#February 15 – DLT Classic
#February 25-28 – GSSSA Championships
#March 4-6 – BAISS Championships
#March 13-15 – World Indoors, Nanjing, China
#March 12-14 – High School Nationals
#March 27-28 – Carifta trials
#APRIL 11-13 – Carifta Games (Hamilton, Bermuda
#April 22-24 – Government Primary School Championships
#April 23-25 – Penn Relays
#MAY 9 – Fritz Grant Invitational
#May 20-22 – Primary School Nationals
#July 4 – Blue Marin Invite
#July 7-12 – World Under-20 Championships in Nairabo, Kenya
#July 24-August 8 – Olympic Games in Tokyo, Japan
#October 3 – University of the Bahamas Cross Country
#October 10 – St John's Cross Country
#October 17 – William 'Knucklehead' Johnson Cross Country
#October 31 – GSSSA Cross Country.
#November 7-8 – BAAA's Masquerade
#November 14 – Bay Street Mile
#November 28 – Kids Athletics Cross Country
#December 5 – 3 PA Stallions Cross Country
#December 12 – Stephen Murray Cross Country