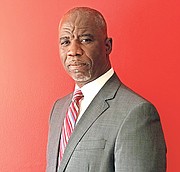 Tyrone Knowles
#By BRENT STUBBS
#Senior Sports Reporter
#bstubbs@tribunemedia.net
#Following the successful completion of its National Squad Trials in December at Mario's Bowling and Family Entertainment, the Bahamas Bowling Federation is looking forward to a change in its qualifying selection process this year.
#Tyrone Knowles, who just completed the first of his two-year tenure as president of the federation, said their aim this year is to strengthen the core of their national team selection.
#"We hope to put on a formal national team coaching clinic," he said. "We are seeking to engage the services of an international coach. That has not been finalised as yet, but it's all on its way.
#"As for the events themselves, we hope to garner the full participation of the bowling community with respect to all of the upcoming bowling tournaments, which are all geared to identifying bowlers according to their standards."
#Based on what he has seen at the international tournaments last year, Knowles said they will have to change the structure for their national team roll-off where bowlers will no longer be bowling the way they see fit.
#"Our bowlers have been accustomed to bowling in a prescribed way that is not necessarily conducive to what they go through when they go away to bowl internationally," he pointed out.
#"When that happens, they are off their stride and everything else.
#"So for example, locally when it comes to the order of bowling, historically we have been putting all of the top bowlers together, but when they go away, the top bowlers are placed randomly."
#Once the bowlers in the international tournaments get pass the cut off spots, they are then ranked by positions. That is the type of strategy that the federation intends to pursue this year so that the local bowlers are accustomed to competing in that manner overseas.
#"This is one of the changes that we will be using this year," Knowles said. "That will be in full effect when the Bahamas Nationals is held in February. All of the bowlers will choose a number and that number will be assigned to them throughout the tournament until we reach Super Saturday where we have the top 25 and then they will be ranked.
#"All of that will help them adjust so that they can be better prepared for the international tournament, instead of bowling locally with their friends. We have allowed our bowlers to dictate where they want to bowl, who they want to bowl with and when they want to bowl."
#In addition to that, Knowles said the federation will also introduce the rotation system where the number the bowlers select will end up following them through to Super Saturday.
#"Hopefully, at the end of the day, we will find bowlers with the mental toughness in addition to their consistency when it comes to bowling," he stated. "Also for the nationals this year, we will seek to introduce multiple patterns.
#"One pattern will be on the left lane and one pattern will be on the right lane. Again, this will be similar to what is done internationally when we go to tournaments. So they will be able to adjust to different types of balls and their releases."
#A prime example of the changes the federation will apply this year were experienced during the federation's National Squad Trials in December.
#David Slatter, averaging 213, took the men's top spot with a total of 4,260 pinfalls, while Driskell Rolle topped the ladies' field with a total of 4,060 and an average of 203.
#"We had some exceptionally high scores and high averages," Knowles said. "The tournament was geared towards encouraging bowlers to bowl better and mentally they were more relaxed without the pressure of having to worry about who is there and who was not there.
#"We had some key bowlers who didn't compete, but the majority of the top bowlers competed. We had some naysayers, but they didn't negatively impact the outcome or the performances of those who competed. So at the end of the day, we moved forward because it's not about personalities, but rather building the sport of bowling."
#With this being his last year in office, Knowles said he's looking forward to taking the sport to a higher level before the annual general meeting and the election of officers takes place on October 17.
#And if God allows him, Knowles, an ordained minister of the gospel, said he will seek another term in office.
#• Here's a look at the schedule of events for the federation for 2020:
#1. Bahamas Bowling Nationals, February 9-22.
#2. 2nd BBF No-Tap Tournament on April 25.
#3. BBF National Doubles Championship April 17-23.
#4. BBF World Cup Roll Offs June 8-13.
BBF National Mixed Doubles
#Championship October 12-18.
#6. BBF 3rd 'No Tap' Tournament on October 10.
#7. BBF Annual General Meeting on October 17.
#8. BBF Annual Souse Out on October 24.
#9. BBF National Squad Trials December 13-19.