31-Member Team For The Commonwealth Games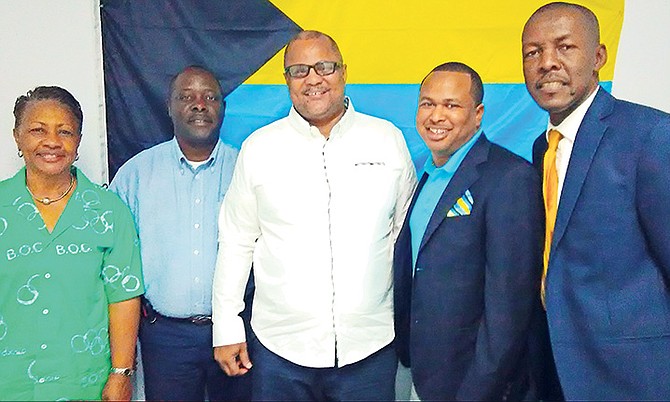 FROM LEFT: At the BOC press conference to name the Commonwealth Games team are Cora Hepburn, Roy Colebrook, Rommel Knowles, Derron Donaldson and Ralph McKinney.
#By BRENT STUBBS
#Senior Sports Reporter
#bstubbs@tribunemedia.net
#THE Bahamas Olympic Committee yesterday announced a 31-member team that will represent the Bahamas at the 2018 Commonwealth Games, scheduled for April 4-15 in the Gold Coast, Australia.
#While Olympic champion Shaunae Miller-Uibo will lead a 19-member athletic team (track and field), collegian Joanna Evans travels along with three other swimmers to compete alongside two boxers and two wrestlers.
#But for the first time, the Bahamas will be represented by a competitor in triathlon and another in table tennis.
#BOC's president Rommel Knowles said they are excited to have two of the small sports making their presence felt on the team this year as they live up to their mandate to include as many sports as possible. "For the very first time in our history, we have two new Olympic sports competing in the Commonwealth Games," Knowles said. "We are excited about the opportunity to have table tennis and triathlon compete for the first time."
#Cameron Roach will be the lone representative to compete in triathlon, comprising of a swim, bike and run, while Adrian Rollins will carry the banner in table tennis.
#Knowles said the BOC didn't have any qualification standards for the games, but they relied on the international bodies in the various sports to make the determination on the criteria for the team selections.
#However, he pointed out that there was a quota imposed by the Local Organising Committee in the Gold Coast and they made sure that they didn't go over the room limit so the Bahamas was forced to reduce the size of its team that is normally around 45-50 strong.
#Roy Colebrook, who will serve as the chef de mission, said once the various federations submitted the names of the competitors who are available to compete, the BOC went ahead and completed the list.
#"Our management team will do our very best to ensure that we will have victory at the Commonwealth Games and we in the management team will do our very best to ensure that the athletes and the officials are comfortable and that they will compete at the best of their abilities."
#On the track and field team, manager Ralph McKinney said because of the games coming so early in the year, there are no collegiate athletes named.
#He noted that the Bahamas Association of Athletic Associations has only submitted the names of the professional athletes who are available to compete.
#"That's a good thing," he said, adding that they are looking forward to some outstanding performances from the athletes who will make the trip. "This allows the college based athletes to get ready for the other meets in the summer."
#Even though he was named to the team to compete in the men's 400m and on the 4 x 400 metre relay team, there is a possibility that Steven Gardiner may skip the trip because of travel restrictions in the United States.
#Knowles said they are looking at trying to get him replaced on the team.
#In addition to athletics, swimming, cycling, triathlon, boxing, the other sports to be contested at the games are badminton, basketball, beach volleyball, diving, gymnastics,
#As the chief de mission, Colebrook will be leaving on March 25 to pave the way for the athletes when they hockey, lawn bowls, netball, para powerlifting, rugby sevens, shooting, squash and weightlifting.
#The Bahamas Gymnastics Federation has a competitor who would have competed in the games, but Cora Hepburn, of the BOC's vice presidents, said because of the age factor, Sydney Wells is not allowed to participate.
#"She is 14 years old and while she qualified for the Commonwealth Games, she is not allowed to participate because of her age," said Hepburn, of Wells who is currently training in New Jersey to become an elite gymnast by the end of the year and should be available to compete in other international meets.
#Here's a look at the official list of the Bahamas delegation for the 2018 Commonwealth Games in the Gold Coast, Australia from April 4-15:
#Team Officials
#Wellington Miller – CGA Representative.
#Roy Colebrook – Chef de Mission.
#Cora Hepburn – General Team Manager.
#Derron Donaldson – Secretary General.
#Athletics – Ralph McKinney, Rupert Gardiner, Mabeline Miller, Frank Rahming and Peter Pratt.
#Triathlon – Dorian Roach.
#Swimming – Sarah Knowles, John Bradley and Andy Loveitt.
#Cycling – Roshawn Jones.
#Wrestling – Clarence Rolle.
#Boxing – Valentino Knowles.
#Chief Medical Officer – Dr. Rickey Davis.
#Medical Staff – Cottrice Robinson.
#Physiotherapitst – Corderro Bonamy.
#Team Members
#Athletics women – Tynia Gaither (100m/4x100m relay); Shaunae Miller-Uibo (200m/4x100m relay); Anthonique Strachan (200m/4x100m relay); Bianca Stuart (long jump); Tamara Myers (triple jump/4x100m relay); V'Alonee Robinson (100m/4x100m relay) and Katrina Seymour (400m hurdles).
#Athletic men – Stephen Newbold (4x40m relay); Donald Thomas (high jump); Jamal Wilson (high jump); Jeffery Gibson (400m hurdles); Latario Collie (triple jump); Teray Smith (200m/4x400m relay); Ramon Miller (4x400m relay); Michael Mathieu (400/4x400m relay); Stephen Gardiner (200m/4x400m relay); Warren Fraser (100m); Shavez Hart (100/200m) and Alonzo Russell (400m/4x400m relay).
#Boxing – Carl Hield (69 kg) and Rashield Williams (64 kg).
#Cycling – Roy Colebrook (road race) and Jay Major (road race).
#Swimming women – Joanna Evans (200m free, 400m free and 800m free) and Lillian Higgs (100m breatstroke, 200m breaststroke and 200m individual medley).
#Swimming men – N'Nyhn Fernander (100m butterfly, 100m freestyle, 50m butterfly and 50m freestyle) and Izaak Bastian (100m breaststroke, 200m breaststroke, 200m individual medley, 50m breaststroke, 50m butterfly and 50m freestyle).
#Triathlon – Cameron Roach (men's triathlon).
#Table Tennis – Adrian Rollins (men's singles).
#Wrestling – Rashji Mackey (men's freestyle 88 kg) and Sean Wrinkle (men's 74 kg).