'Buddy' Hield Scores 10 In Blowout Loss To Warriors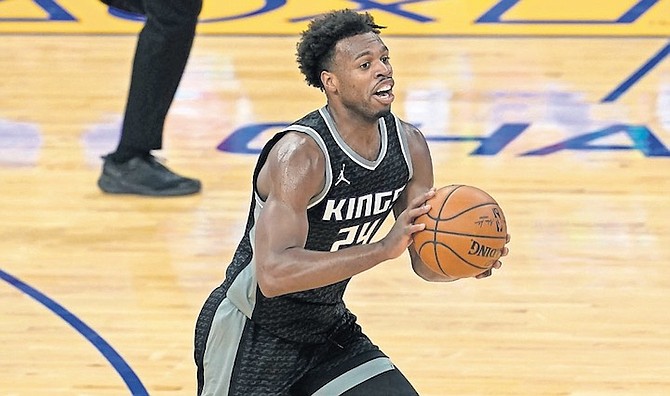 KINGS guard Buddy Hield in action against the Warriors. (AP)
As of Wednesday, January 6, 2021
#SAN FRANCISCO (AP) — (AP) — Chavano "Buddy" Hield scored 10 points for the Sacramento Kings in a 137-106 loss to the Golden State Warriors Monday night.
#Hield also grabbed six rebounds, dished out one assist and a blocked shot in 30 minutes on the hardwood. Before tonight's game, he was at 73 straight games with at least one 3-pointer dating to November 3, 2019, the NBA's longest active such streak.
#The Kings host the Chicago Bulls Wednesday to begin a season-long stretch with seven straight home games.
#Stephen Curry followed up his career-high 62 points a night earlier with another 30 points, nine rebounds and eight assists. Curry had 23 points at halftime on 7-for-11 shooting, including 4 of 7 on 3-pointers — nine fewer than his total at the break the night before but impressive nonetheless on a winning back-to-back. He finished with five 3s.
#Golden State jumped to a 19-7 lead and the Kings called a timeout after Curry's first 3 of the night at the 5:24 mark in the opening quarter. With Draymond Green back and healthy playing his third game this season, the Warriors again showed more effort and energy on the defensive end as they did Sunday to split a two-game home set against Portland.
#The Kings, coached by former Warriors top assistant and Kerr close friend Luke Walton, dropped their third straight.