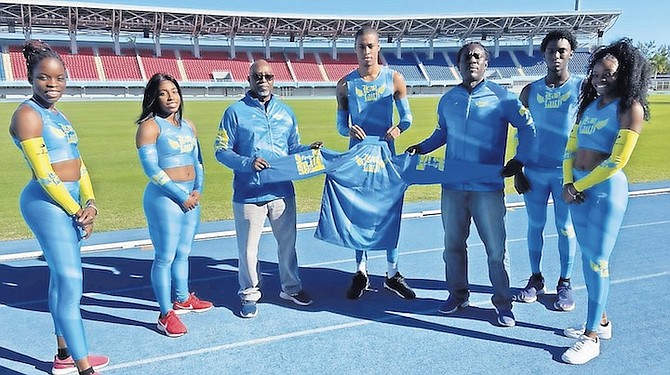 DELVIN Moss presents uniforms to coach James Rolle and jumpers Tamara Myers, Andira Ferguson, Stoney Duncanson, Stephan Farquharson and Daejha Moss.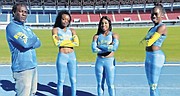 COACH James Rolle with (l-r) Daejha Moss, Andira Ferguson and Tamara Myers as they display their Leap By Faith uniforms.
#By BRENT STUBBS
#Senior Sports Reporter
#bstubbs@tribunemedia.net
#EVER since James Rolle formed the Leap of Faith Jumpers track club for jumpers in 2010, he did so without the support of a legitimate sponsor until businessman Bommer George added them to his brand of sporting organisers.
#Rolle and five of his 14-plus athletes showed off their aquamarine uniforms with gold and white writing as they received them from Bommer George's agent, Delvin Moss, at the Thomas A Robinson National Stadium.
#Rolle said through the sponsorship, his club members can now concentrate on competing in as many meets as they can so that they can try and qualify for the various international meets this year, including the postponed 2020 Olympic Games and the regional junior CARIFTA Games.
#"We have some elite athletes in college like LaQuan Nairn, Daejha Moss, Charisma Taylor and Jyles Etienne and local athletes like Ryan Ingraham, Tamara Myers, Holland Martin and Kaiwan Culmer, who need to get into the meets to qualify for the Olympics," Rolle said.
#George Armbrister, better known as Bommer George, in making his first commitment to a track team, said it goes with his philosophy of winning.
#"Anything I put my hand into, I want to win, or at least be well represented," said Bommer George, who has been successful with teams in the New Providence Women's Basketball Association and the New Providence Softball Association.
#"I don't like to be a loser. I like to win."
#With this being an Olympic year, the 2020 games being postponed from last year because of the coronavirus pandemic, Bommer George said he's prepared to work with Rolle in providing whatever assistance his assistants need either in the United States or here at home.
#"I want to be a major contender for athletes making the Olympic team," he said.
#"So whatever I can do for the athletes, I will do it. It ain't no big deal. I want to help them as much as I can."
#Rolle thanked Bommer George for coming through at a critical stage in the club's existence.
#"We really appreciate it and we will perform and make you want to come back again and again," he said.
#Daejha Moss, a long and high jumper who has been a member of the club for the past eight years, said she has accomplished so many goals, but having an official uniform sponsored by Bommer G will go a long way.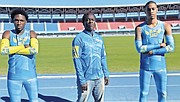 COACH James Rolle and jumpers Stephan Farquharson and Stoney Duncanson in their uniforms.
#"I like the colours," said the 21-year-old Moss, a 2017 CARIFTA Games high jump silver and long jump bronze medallist.
#"Blue and yellow was always our colour. I like it. It fits well, great material. It's a good quality too, so I'm very pleased with it."
#As she headed back to school at North Dakota State on Monday after spending Christmas here at home, Moss said she would like to produce her personal best in both the long and high jump, including breaking the Bahamian national record in the high jump.
#The Queen's College graduate has a PR of 1.74m (5-8 1/2) in the high jump and 5.87m (19-3 1/4) in the long jump. She has also done 10.88m (35-8 1/2) in the triple jump and ran 7.70 seconds in the 60 metres and 12.60 in the 100m.
#Myers, a graduate of the University of Arkansas and the Bahamas women's national triple jump record holder, has been home for the past two years competing for Leap of Faith and she too was impressed with the sponsorship and the uniforms.
#"The colours are amazing. They are bright and vibrant. They are definitely different from the other track teams, so we will stand out," Myers said.
#"So I'm looking forward to competing under the Bommer George brand. It just adds to the touch.
#"With the amount of jumpers we have on the team, I think we will really stand out."
#Myers, a member of the Bahamian national team at all international events from the CARIFTA Games to the Commonwealth Games, said the only thing missing from her résumé is the Olympics.
#"Last year was a trying time for all of us, so we're just getting back into the groove," she pointed out. "Certainly for me, I want to qualify for the Olympics, whether it be the long or the triple jump or both. So I'm looking forward to the upcoming season."
#Myers, 27, has a lifetime best of 6.51m (21-4 1/4) in the long jump and 14.03 (46-0 1/2) in the triple jump outdoors and 6.33m (20-9 1/4) in the long jump and 13.40m (43-11 3/4) in the triple jump indoors.
#Stoney Duncanson, a 2016 graduate of St John's College now attending the University of the Bahamas, has been a part of Leap of Faith since 2014.
#The 21-year-old said he loves the uniforms as well. "I love the uniforms. This is my favourite colour and it's just a blessing to be sponsored by Bommer George," said Duncanson, who has done a lifetime best of 2.05m (6-8 3/4).
#"I plan to show off the uniform this Saturday when I compete. Hopefully it will be a very good showing in it."
#Stephan Farquharson, another high jumper who is proud to be a part of Leap of Faith for the past three years, said the uniforms are striking and appealing.
#"I now have a chance to represent my club proudly and put our name out there," said the St Augustine's College 12th grader. "This year, I'm looking forward to turning in my PRs in the high, long and triple jumps."
#Farquharson, a fourth place finisher at the 2019 CARIFTA Games, is aiming to clear 2.13m (7-0) in the high jump, 15m (49-2 1/2) in the triple jump and 7m (22-11 3/4) in the long jump.
#"I love coach Rolle as a coach. From day one, I felt we had a connection. He's such a positive coach and a great guy to bring me up through the ranks," he said. "He's just an awesome coach."
#For the past seven years, Andira Ferguson has been a part of Leap of Faith, but it's the first time that she's going to be able to compete in an official team uniform.
#"I'm glad that Bommer George has decided to trust us with their name and to represent them, not only in the Bahamas, but whenever we go abroad to compete," she said.
#Ferguson, who is preparing to head back to Fresno State, said her goal this year is to stay healthy and hopefully she produces her best performances, not just distance-wise, but technically in this process. "I just want to be mentally focused in everything," said the 22-year-old Ferguson, who has a PR of 5.82m (19-1 1/4) in the long jump and ran 12.11 in the 100m.