Higgs And Club Keep Playoff Hopes Alive
As of Tuesday, January 5, 2021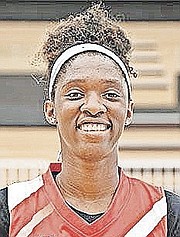 LASHANN HIGGS
#By BRENT STUBBS
#Senior Sports Reporter
#bstubbs@tribunemedia.net
#Harbour Island native Lashann Higgs and her Club Baloncesto Bembibre kept their hopes alive for a playoff spot in the Spanish Women's Professional Basketball League with a 66-63 victory over the Casedemont Zaragoza.
#In the beginning of the new year with a victory on Sunday at home, Club Baloncesto Bembibre used a 22-14 surge in the fourth quarter to seal the deal after trailing for the first three quarters. Casedemond Zaragoza led 22-12 at the end of the first quarter and 31-26 at the half. By the end of the third, they were holding onto a 48-44 advantage.
#"It feels great," said Higgs of their victory after closing out the year on a losing note on December 27. "We just have to continue to work and get better every game and practice and try to continue on with the same energy and focus."
#In the win, Higgs contributed nine points in 31 minutes on the court. The 25-year-old connected on 3-for-6 for 50 percent from the field and 1-for-4 (25 percent) from the three-point line, but she didn't get to the free throw line.
#"I've had a decent performance," said Higgs, who also had eight rebounds, three assists and two steals in the game. "I always feel like I do more so I will continue to rewatch the game and see what I can improve on for the next game."
#The 5-foot, 9-inch shooting guard, playing in her first pro season after graduating last year from the University of Texas, is currently averaging 15.2 points, 4.9 rebounds and 1.2 assists per game.
#With the win, Club Baloncesto Bembibre improved their win-loss record to 4-14 for 14th place in the 16-team standings. They will play their next game on Saturday against the Ciudad de La Laguna Tenerife.
#"We just have to keep building upon the progress we have already been making and keep improving," she said.
#With 10 more games after that left in the regular season that will wrap up on March 27, Higgs said they are still in the hunt for the playoffs.
#"I think we might be four games away from making the playoffs," said Higgs when asked about the chances of Club Baloncesto Bembibre, coached by Pepe Vazquez, getting into the postseason.