Coleby And Happinets Extend Winning Streak To Five Games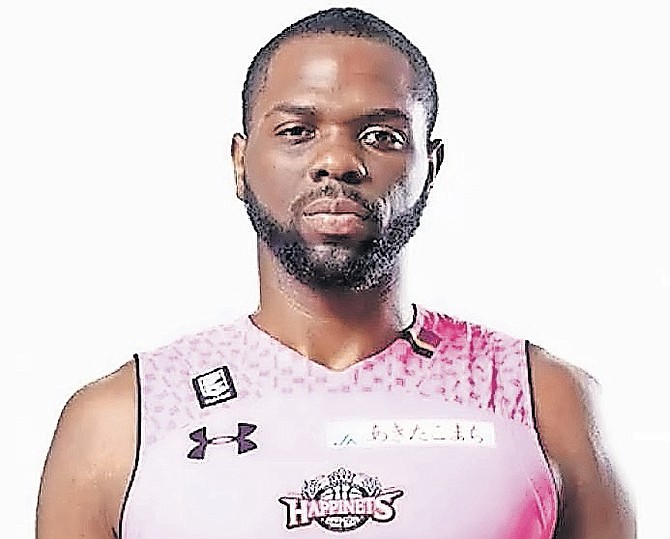 KADEEM COLEBY
As of Tuesday, January 5, 2021
#By RENALDO DORSETT
#Tribune Sports Reporter
#rdorsett@tribunemedia.net
#KADEEM Coleby and the Akita Northern Happinets extended their winning streak to five games and have won 10 of their 12 games in the month of December to re-enter the playoff picture.
#Coleby finished with 13 points, eight rebounds and five assists in just 20 minutes of the Happinets' 97-57 win over Mark St Fort and the Hiroshima Dolphins on Sunday. St Fort finished with just three points, four rebounds and two steals.
#The Happinets swept the weekend series after a 72-70 win on Saturday. Coleby finished with nine points, seven rebounds, three assists and one blocked shot.
#With their torrid pace in December, the Happinets improved to 18-9 and are now fourth place in the East standings, tied with the Toyama G. Dragonflies.
#Akita will return to the court January 23 for a two-game series against Kawasaki BT.
#Travis Munnings and Shaquille Cleare have helped UD Oliveirense overcome a three-game losing streak and rise to No.6 in the LPB standings at 8-6 with a 90-79 win over third ranked Immortal.
#Cleare had his best game since he joined the team and finished with 13 points and four rebounds. Munnings finished with a near triple double – 10 rebounds, seven points and seven assists.
#Tavario Miller and his Boca Juniors completed the first portion of Argentina's Liga Nacional de Básquet season at 10-5 after an 83-72 win over Olimpico.
#Miller averaged 12.8 points and 5.2 rebounds per game in the 13 contests since he joined the club.
#"The form of dispute is totally atypical, obviously many matches have to enter into a tight schedule, which means that teams have to prepare and plan the competition in an unusual way," said Boca head coach Gonzalo García on the team's website.
#"The team's preparation was very atypical, we never had the chance to join in due to countless inconveniences, but they all gave their best for the team to roll as such. The players had ups and downs, the foreigners had little time to adapt. Surely with the running of the tournament they will find their best version.
#"The irregularity has been a constant, except for some teams in particular, it has been very difficult for the majority to stay regular."
#The season resumes on January 7.