Hornets' Kai Jones takes part in Elite Skills Camp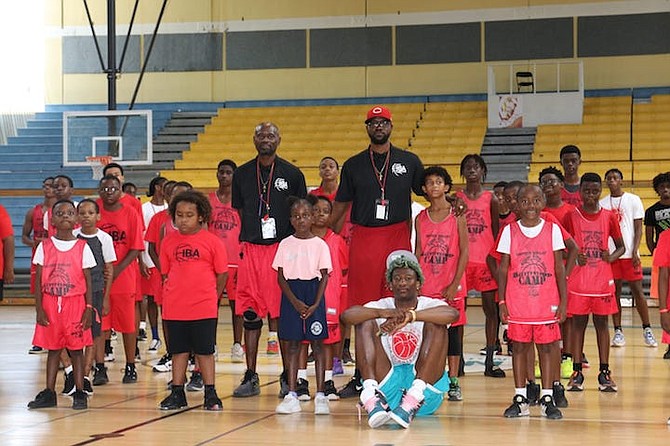 Kai Jones of the Charlotte Hornets seated with the campers. Photos by Marcellus Hall.
As of Wednesday, June 29, 2022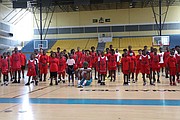 #By BRENT STUBBS
#Senior Sports Reporter
#bstubbs@tribunemedia.net
#KAI Jones, the latest Bahamian to play in the National Basketball Association, took time out during a short break at home to participate in the 9th annual Denykco Bowles Elite Skills Basketball Camp.
#Coming off his rookie season with the Charlotte Hornets after he played with the Texas Longhorns, the 6-foot, 10-inch centre said he was happy to share his experience with the youngsters at the camp yesterday at the Kendal Isaacs Gymnasium.
Kai Jones is flanked by coaches Ricardo Pierre and Denykco Bowles. Photos courtesy of Marcellus Hall
#"This is coach Bowles' IBA Skills Camp and he asked me to come and help out, talk with the kids, get some drills with them and help them further their basketball career to get better," Jones said.
#On what he's seen at the camp, Jones said Bowles and his team have it well organised. "It's really beautiful, really organised. I really like how they have the kids working out, working on their fundamentals, things that I work on every day, lay-ups, mid-range jumpers," he stated.
#"It's beautiful to see. The kids are enjoying the game. It's awesome. I'm glad to see it."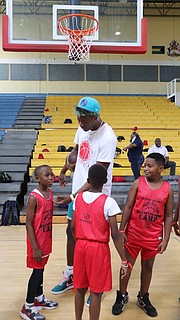 #Other than attending the camp, while here over the past few days, Jones said he spent a lot of time with his family and went to church, but also took the time to get in some workout sessions, getting into the salt water and lifting weights.
#Before he leaves for Charlotte today, Jones said he just wanted to advise the campers that "I'm living proof that you can do it too. With God on your side, he's really proud of you and he wants you to do your best."
#Bowles thanked God for allowing them to put on the camp, especially as they got a chance to share the day with Jones on his short visit home.
#"The kids are very excited to see him in person. He's somebody just like them, so as long as we could, people such as Kai, such as Buddy (Hield) and (Deandre) Ayton, our homegrown athletes, these kids aspire to be just like these individuals.
#"So at the end of the day, we want to bring in as much of people as we can to inspire and motivate these kids, I think it will definitely motivate them at the end of the day."
#With the camp now into day two, Bowles said he's been pleased with what he has seen so far and he tipped his hat off to his coaching staff, including Ricardo Pierre, who has really been a big help.
#"It's pretty nice to have Kai come in and give back to the kids," said Pierre, one of the country's most prolific shooters. "It gives them a positive vibe where it's not too late and the sky is the limit.
#"I remember him as one lanky kid, but he's a specimen to prove to the young kids that hard work and determination can get them to where they want to actually go."
#Pierre said a lot of the campers came in lacking the fundamental skills, but by the end of the camp on July 20, he's confident that they will see an improvement in the games of both the boys and girls participating.
#Two of the male campers expressed their delight in being a part of this year's event.
#Caleb Rolle, a 12-year-old student of Believers Faith Christian Academy, said he decided to join the camp this year because he wanted to improve his basketball skills.
#"I think that this is a good place for me to get better," he said.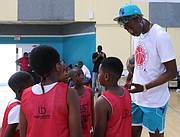 #Rolle said he's been able to watch Jones play because he's a teammate of his favourite player, point guard LaMelo Ball.
#"I was really surprised that I could see an NBA player practicing with us," he said of Jones. "I think it's a great experience to have him here."
#And Jefferson Lightbourn II, a 16-year-old student of St Anne's High School, said he started participating in the camp since 2019 and he decided to return because of his involvement in Bowleg's IBA programme.
#"We're all just like family," he said.
#But he was more intrigued to be around Jones.
#"It's pretty cool to have an NBA player here," he quipped. "He's someone who made it doing the passion that we all came here to do and love.
#"So I think it's pretty cool that he came here to mentoring us and showing us some of the things that we need to do to become better basketball players."
#When he returns for his second season in the NBA, Jones said his goal is to help to make the Hornets the best team in the NBA.
#"I believe in our group, I believe in our coaching staff and our organisation," he stated.
#"We have a special team, so I can't wait to see what we can accomplish. I believe in them and I believe in myself."
#As for his improvement, Jones said although he spent some time in the D-League during the season, he felt he has grown tremendously and is eager to prove it when the season starts in October.
#"It's been amazing. I believe I got so much better than when I first got into the league," he pointed out. "I feel like I've completely transformed. It's amazing."
#When he made his debut in the league, Jones said he has to admit that it was a mental adjustment that he had to make at first.
#But he said it's awesome to be the latest of the three Bahamians to be playing in the NBA, joining Chavanno "Buddy" Hield, now with the Indiana Pacers, and Deandre Ayton with the Pheonix Suns. "It's awesome. I feel like we're going to have more Bahamians entering the NBA draft in the years to come as well," said Jones. "Our country has great athletes and once the guys continue to believe in themselves, the possibilities are right there."
#In going to the NBA Summer League, Jones said he just wants to prove that he belongs in the NBA and hopes to make an impact on the scouts in attendance.
#Jones, who played for Texas from 2019-2021, was selected with the 19th pick overall in the first round of the 2021 NBA draft by the New York Knicks. He was immediately traded to Charlotte and on August 3, officially signed with the Hornets, playing in 21 games, although his time on the court was very limited.
#The Denykco Bowles Elite Skills Basketball Camp will concentrate on the campers' basketball IQ, footwork, advanced ball handling, offence/defence critiquing and training and strength resistance training.
#Interested persons can contact Bowles at 466-0049 for more details or register at info.ibabahamas@gmailcom. The cost is $99 per week.
http://www.tribune242.com/news/2022/jun/29/hornets-kai-jones-takes-part-elite-skills-camp/?news