Bahamas girls lose by 100 points to Mexico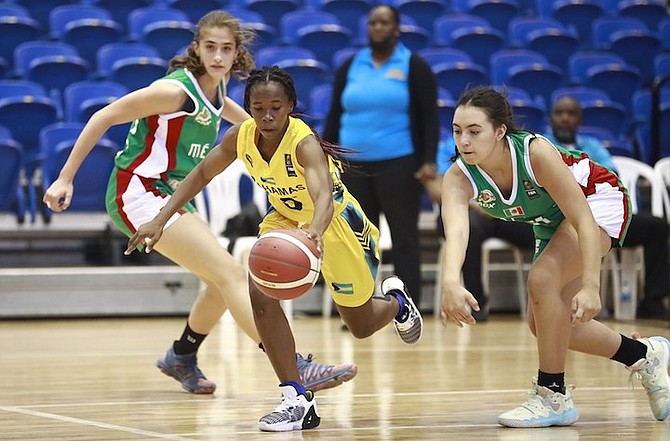 DWAYNAE Knowles in action for Team Bahamas yesterday against Mexico in the FIBA Under-15 Centrobasket Championships in Gurabo, Puerto Rico.
As of Wednesday, June 29, 2022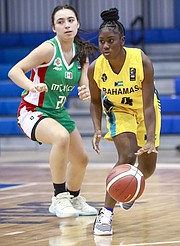 D'Andra Seats
#By BRENT STUBBS
#Senior Sports Reporter
#bstubbs@tribunemedia.net
#Despite losing their third straight game of the FIBA Under-15 Centrobasket Championships by 100 points, head coach Varel Davis said there is still hope of Team Bahamas turning things around for the playoffs.
#Davis, who was assisted by Shakira Farrington and Anton Francis, said it was disheartening for the team after its lopsided 119-19 rout to Mexico yesterday at the Coliseo Fernando 'Rube' Hernandez in Gurabo, Puerto Rico.
#"It was a tough loss. We knew that Mexico is the second best team in our region, but I told my girls to just go out there and score baskets," Davis said. "I told them win, lose or draw, just score baskets. Do the things that we learned in practice. "That was my hope. I never thought that they would have gotten beat this bad. But the fight is still in them because they are still young. We have players as young as 11 years old and the oldest is 14. Plus, we are the smallest team in the tournament, so we have to play much harder than everybody else."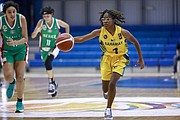 Savannah Turnquest
#Davis said this is definitely a learning experience for the team and while it's hard to digest the loss, they have to go back to the drawing board and get ready for the playoffs. With just four teams in the tournament, the Bahamas will play the top ranked team today and then whether they win or lose, they will play on Thursday for their final position.
#"We just have to go back to the drawing board and do the simple things," Davis said. "I think our biggest problem in the tournament is turnovers. We had a high percentage of turnovers. We can't take care of the ball. "But the girls are still in high spirits despite the loss," Davis said. "As the tournament progresses, we hope that we would get better. This was a setback, but we hope that we can rebound from this loss and get back into it. We just have to capitalise on our mistakes and take care of the ball."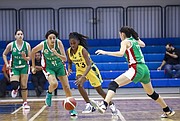 Takeithra Hanna
#With all but one of their players scoring, Mexico got a game high 30 points from Sandra Acuna to lead two other players in double figures. Team Bahamas got six points apiece from Terrell McCoy and Andica Curtis, both added nine and six rebounds respectively. Takeithra Hanna contributed three points and Savannah Turnquest and Dwaynae Knowles came through two points each for the team's final margin.
#Three players didn't score for the Bahamas and three more didn't get to play.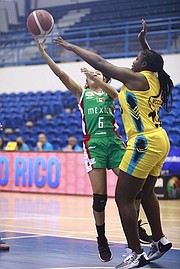 Terrell McCoy
#The telling story was the fact that the Bahamas trailed 31-6 at the end of the first quarter and only scored one in the second half as Mexico added 41 to extend their margin to 72-7 at the half. The second half was a little different as Mexico used a 22-6 spurt in the third and 25-6 in the fourth to seal the deal.
#Team Bahamas committed a total of 55 turnovers, compared to just 27 by Mexico. The Bahamas also got out-rebounded 51-32. Mexico went 55-for-88 from the field, while Team Bahamas went 7-for-48.
#The Bahamas also couldn't score from behind the three-point arc, shooting 0-for-6. Mexico was 4-for-12.
#The tournament for girls started on Sunday with Team Bahamas losing 101-20 to Puerto Rico in their opener. They came back in the second game on Monday and suffered a 79-45 decision to the Dominican Republic.
#"We still have a chance to win a medal," Davis said. "After our game tomorrow, we will know whether we will play for the gold or silver if we win or if we play for the bronze if we lose," Davis said. "So we just have to regroup and get ready for the playoffs."
#The girls tournament followed the boys championship a week ago when Team Bahamas, coached by Quinton Hall, went undefeated.
http://www.tribune242.com/news/2022/jun/29/bahamas-girls-lose-100-points-mexico/?news