'Jazz' Chisholm Jr placed on 10-day injured list with 'a nagging back issue'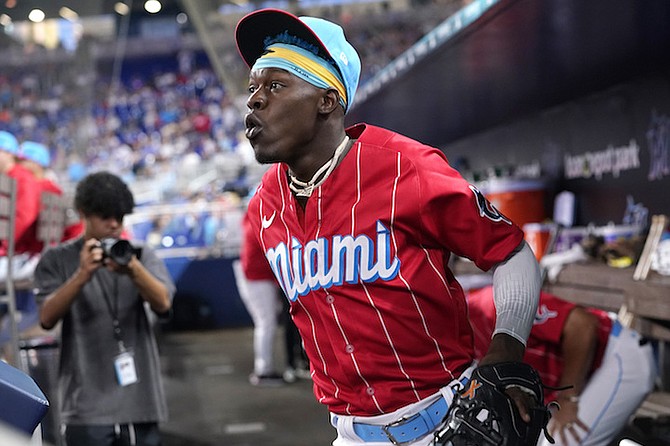 Miami Marlins second baseman Jazz Chisholm Jr. runs from the dugout during the first inning of a baseball game against the New York Mets, Saturday, June 25, 2022, in Miami. (AP Photo/Lynne Sladky)
#By RENALDO DORSETT
#Tribune Sports Reporter
#rdorsett@tribunemedia.net
#JASRADO "Jazz" Chisholm Jr continues to struggle with a nagging back issue that has forced him to the injured list.
#The Miami Marlins placed Chisholm Jr on the 10-day IL last night after the star second baseman struggled with back spasms for the last two series against the New York Mets and St Louis Cardinals respectively.
#According to Christina de Nicola of MLB.com, Chisholm was sent for an MRI after he exited Tuesday night's 5-3 loss to the Cardinals.
#"Around the same (level of discomfort as this past weekend), so we're going to check it out," Chisholm told MLB.com following yesterday's game. "Everybody knows I'm not one to ever come out of games. I never want to come out of the game, especially when it's only the first inning and actually try and hit again or something. But today, just had to get out of there."
#Chisholm originally injured the back early in the season on a slide and recently re-aggravated it last week which forced him out of the lineup last Friday in the series opener against the Mets.
#He returned to the field the following game and doubled on "Bahamian Heritage Night" but returned to the sidelines the following day in the series finale. He also missed the series opener against the Cardinals on Monday night.
#Today is the final day of voting for the first phase of the 2022 MLB All-Star ballots.
#Chisholm remains the leading vote getter for National League second baseman after the second returns with 1,066,927 votes.
#Ozzie Albies of the Atlanta Braves is second with 984,846 votes and Jeff McNeil of the New York Mets 3rd with 945,335.
#Chisholm will need to finish among the top two at the position through the first phase of fan-voting which concludes today.
#Ballots can be cast on MLB.com up to five times a day every 24 hours.
injured
http://www.tribune242.com/news/2022/jun/30/jazz-chisholm-jr-placed-10-day-injured-list-naggin/?news