AWARDED SCHOLARSHIP TO THE IMG ACADEMY IN FLORIDA NEXT FALL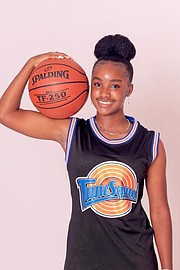 PREP basketball player Azariah Smith is headed to IMG Academy in Bradenton, Florida next fall as one of six full scholarship recipients.
#By RENALDO DORSETT
#Tribune Sports Reporter
#rdorsett@tribunemedia.net
#PREP basketball player Azariah Smith received the opportunity of a lifetime when she was awarded a scholarship to one of the most prestigious sports academies in Florida.
#Smith is headed to IMG Academy in Bradenton, Florida next fall, as one of six full scholarship recipients through the programme's Women In Sports Committee (WISC).
#The committee included broadcast journalist Cari Champion, co-owner of the XFL Dany Garcia, former tennis pro Lindsay Davenport, former Olympic skier Lindsey Vonn, former sportscaster Michele Tafoya, and television broadcaster Robin Roberts.
#Smith, who recently completed the ninth grade at St Augustine's College, was selected by Roberts, who will serve as her mentor for the remainder of her high school athletic and academic career.
#"Talent is universal, opportunity is not," Roberts said. "These young girls are going to know – we hear you, we see you and we care about you."
#Smith previously attended the IMG summer basketball camp and began to build a relationship with the programme. She added that it was an honour to be selected by Roberts.
#"I'm honoured to be chosen by such an amazing icon. The fact that she chose a small island girl out of so many candidates from all over the world was surprising and provided motivation for me. I look forward to her guiding me along my basketball journey," Smith said.
#"I enjoyed the experience and I decided to apply to the school. I did not plan to go this year but we knew we couldn't afford it. My mother kept in touch with the basketball advisor at IMG and she nominated me to the WISC committee. Two months later after I had already given up on the scholarship, my mother got the news that we got in."
#The committee was established to develop programmes and initiatives for improving accessibility and participation of young women in sports. They identified scholarship candidates across a number of sports who met certain IMG Academy and committee criteria. Committee members then narrowed the list of submissions to six finalists and each selected a student-athlete to honour with a full scholarship.
#Scholarships will begin in fall 2022 and continue through the individual's high school graduation at IMG Academy.
#Smith, a member of the class of 2025, joins fellow basketball player Sienna Dauer (2024) of Fairview, Pennsylvania; golfer Alessandra Carranza (2027) of Las Vegas, Nevada; track and field athlete Tiana Welbon (2027) of Germantown, Maryland; lacrosse player Olivia Doyen (2025) of Prior Lake, Minnesota; and tennis player Sophia Cedeno (2025) of Lakeland, Florida.
#"I expect to interact and bond with students from all around the world and I expect to create a sport family. Most importantly, I'm a high honour student so I expect to continue to excel in my academics because I know they come first," Smith said.
#"On the court, I expect to improve on my skills like my ball-handling, shooting, teamwork and basketball IQ to become a smarter guard."
#She lists Skylar Diggins-Smith of the Phoenix Mercury and Stephen Curry of the Golden State Warriors as her basketball inspirations, but patterns her game after Zia Cooke of the South Carolina Gamecocks.
#"When I watch her play it reminds me of myself," she said of Cooke.
#"She's humble, she's passionate, she plays shooting guard but can also play the point if she has to."
#With little organised basketball in the country since the COVID-19 pandemic began, she relied on a strong support system at home to remain sharp and keep her skills intact.
#"We didn't have many practices due to lockdowns but I was able to play at home to maintain my skills," she said. "Once the country opened back up I had practice with my coach at SAC – Mrs Moultrie and as things opened more and more I was able to work more and more with my different coaches."
#Her mother Raygail Smith added: "What we did as a family to keep her interested was alot of family activities.
#During basketball and exercise time we would go outside for a specific time to keep her motivation going.
#"We did a lot of basketball drills and we made it entertaining."
#IMG Academy is one of the world's leading multi-sport training and educational institutions.
#IMG Academy also serves as a training and competition venue for amateur and professional teams, a host site for a variety of events, and a hub for sports performance research and innovation.
#Additionally, IMG Academy's leading college recruiting services provider, Next College Student Athlete (NCSA), is the world's largest and most successful collegiate athletic recruiting network.
#NCSA leverages proprietary technology and data with professional expertise and personal relationships to connect tens of thousands of college-bound student-athletes to more than 35,000 college coaches nationwide across 37 sports each year.
#"We are honoured to welcome this inaugural class of scholarship recipients alongside our Women in Sports Committee members," said Brent Richard, the president of IMG Academy.
#"After a long and thorough process, we've selected six incredible young women, and we look forward to being a part of their high school journey," he added.
http://www.tribune242.com/news/2022/jun/30/azariah-smith-gets-opportunity-lifetime/?news