Buddy: 'We didn't match their physicality'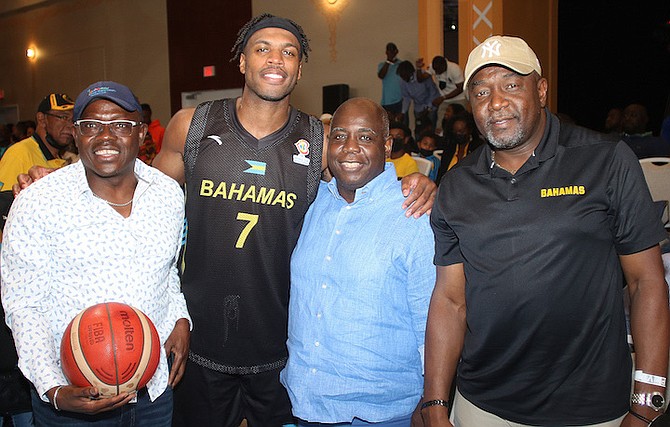 CHAVANO "Buddy" Hield is flanked by Deputy Prime Minister Chester Cooper, Prime Minister Philip 'Brave' Davis and Minister of Youth, Sports and Culture Mario Bowleg. Photo by Patrick Hanna/BIS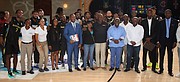 TEAM Bahamas members share a moment with Prime Minister Philip 'Brave' Davis and other government officials. Photo courtesy of Patrick Hanna/BIS
#By BRENT STUBBS
#Senior Sports Reporter
#bstubbs@tribunemedia.net
#NATIONAL Basketball Association player Chavano "Buddy" Hield said he couldn't ask for more support than they got from the Bahamian public for the men's national team matchup against the Dominican Republic.
#Although the Bahamas lost 88-80 to the Dominican Republic in the FIBA Basketball World Cup 2023 Americas Qualifier on Monday night, there was standing room only in the makeshift basketball arena in the ballroom of the Baha Mar resort.
#Hield, now with the Indiana Pacers, led the Bahamas with a game high 29 points, including six three-pointers, with eight assists, five rebounds and three steals.
#"Just seeing the crowd there and all of the buildup and the hype around the game, it was just beautiful," Hield said. "When you scored a three point, it was like a dunk effect.
#"We got off to a slow start, but we kind of weathered the storm. Some of the guys are not used to playing in this atmosphere and we didn't match their physicality, but this is a building process for us. From where we came from to now, hats off to coach Chris DeMarco and his staff for where we are today."
#DeMarco, an assistant of the Golden State Warriors, serves as the head coach of the Bahamas team. He said once the Bahamas team got into their groove, it was a little too late.
#"I'm really proud of our group and the way we fought," he said. "I think we came a long way as a national team and the progress we made.
#"Overall, we would have liked to have won, but we can take some positive things from this game as we look ahead to the next game when we play again in August in the next window."
#With the support from Prime Minister Philip 'Brave' Davis, Deputy Prime Minister I Chester Cooper and Minister of Youth, Sports and Culture Mario Bowleg, to Bahamian celebrities, including former NBA player turned actor Rick Fox, the team couldn't ask for a better crowd of spectators.
#"It was exciting to me. I'm so glad to have been able to get this opportunity to see the next generation of basketball players do their thing," Fox said.
#"When it was my turn, it was passed on to me from Mychal Thompson and now I get to watch the future from guys like Buddy Hield.
#"Buddy is now playing the frame work for so many young players who feel like they have the opportunity to be the next. So to watch guys like Buddy and the rest of the team come and represent their country the way they did, I love it."
#Fox, who won three championship rings with the Los Angeles Lakers in the NBA after he spent some time with the Boston Celtics, said the fans really threw their support behind the team.
#"I don't watch a lot of basketball for a lot of reasons, but I follow Buddy and Klay and Deandre, even though I am upset with what he's going through with his contract," Fox said. "So I was pleased to be home to watch these players who came out and represented the country."
#Now retired from basketball, but doing some filming gigs as an actor/ director/producer, Fox said as a Bahamian, he will spend as much time as possible at home assisting with the development of the country in any way possible.
#Bowleg, a former coach and president of the federation, said while the team got off to a sluggish start, they picked up the momentum when young point guard Domnick Bridgewater came into the game.
#"The team didn't have enough to finish Dominican Republic off because of their size. They got punished on the inside," Bowleg said.
#"But despite all of that, the guys did their best. They were capable of shooting a better percentage than they did tonight.
#"But what was most impressive was that the Bahamian people came out and supported them. We advanced. So as long as we continue to improve and when we play Argentina here in our next window here in August, we hope that we can get the same type of support from the Bahamian fans."
#Hopefully in that window, Bowleg said the team will have the addition of Phoenix Suns' centre Deandre Ayton, who is embroiled in contractual negotiations and Charlotte Hornets' centre Kai Jones, who had to report to Summer League.
#In their absence, Grand Bahamian Franco Miller Jr emerged as one of the bright young stars to watch. He finished the game with nine points with three assists and a pair of rebounds.
#"I feel it was a good experience for me, especially as I prepare to go to college this year," said Miller Jr.
#"It was good to get on the floor with some NBA talent and pros who play overseas so that I can get ready for next year."
#As for his performance, Miller Jr said coming off an ankle injury he sustained a few months ago, he did extremely well. After getting in a taste of the competition, he said he would love nothing better than to play again with the team in August.
#Veteran pro player Jaraun 'Kino' Burrows, who is still in France playing, said if needed, he will make himself available to play on the team in the next round.
#"I still have one more year on my contract, so I'm contemplating on whether I will continue playing. Or I just concentrate on my development programme," said Burrows, who is assisting a number of young players like Bridgewater in their transition to the pro ranks.
#"The kids are doing well in Europe and I'm always looking at adding some more talent to the programme. But whatever I could do to help the national team, I am willing and ready to assist, even if it's just some leadership."
#The team could certainly benefit from some more seasoned players as they prepare to continue the journey to the Americas Cup in 2023.
#Prior to the game on Monday, the team had just returned from the US Virgin Islands where they were successful in winning 97-80 on Friday night to advance to the next round of the World Cup as Hield finished with a game high 26 points and Miller Jr added 17.
http://sportsinthebahamas.com/wp-admin/post.php?post=4188&action=edit