Teams arriving for Babe Ruth Caribbean Championships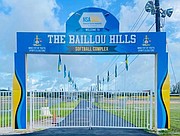 ENTRANCE to the refurbished Baillou Hills Sporting Complex.
#By BRENT STUBBS
#Senior Sports Reporter
#bstubbs@tribunemedia.net
#While workmen are busy completing the final cosmetic work to the Baillou Hills Sporting Complex, teams are starting to arrive for the Babe Ruth 12-and-under Caribbean Championships and the 16-and-under Invitational.
#Scheduled for Thursday to Monday, the 12U will feature a tournament and a host team from the Bahamas in addition to teams representing Aruba, Cuba, the Cayman Islands and Puerto Rico.
#Aruba, the Netherlands, Saint Maarten, Puerto Rico, the United States and the Bahamas will make up the teams participating in the 16U Invitational.
#On Monday night, the Cayman Islands arrived in town and Greg Burrows Sr, the commissioner of the Babe Ruth Baseball Caribbean Region, said everything is coming into place for the start of the tournament.
#"We had a couple of hiccups, but we are getting things sorted out and we will be ready to go," Burrows Sr said.
#Although there are some concerns about the weather, Burrows Sr said that's one thing they can't control, but they have some contingency plans in place if it rains. "We will make adjustments to the tournament based on the weather," he said. "That's just the way it is. Every tournament, you have to adjust to the weather."
#The Cayman Islands, according to one of their coaches, is eager to play in the tournament.
#"This is the first time in a long time that we had a team that has left the Cayman Islands to compete in a tournament, so we really want to see how they will perform," he said.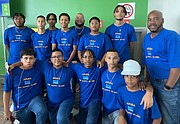 ARUBA'S Under-16 team on their way to the Babe Ruth Tournament today.
#"Despite not being able to travel, we are here with high expectations. We feel that this team will perform very well. The players are all eager to perform and so we are looking forward to making our presence felt here."
#In addition to the players and coaching staff, there are at least nine parents who are travelling from the Cayman Islands.
#With the Cayman Islands in town, Burrows Sr said they are just waiting on the other teams to come in today. He noted that Cuba was scheduled to arrive last night and the others will be in town just in time for the start of the tournament today.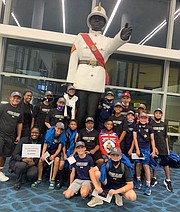 CAYMAN Islands Under-12 baseball team arrive at Lynden Pindling International Airport.
#The Bahamas 12U host team, coached by Javier Bowe, will comprise of the following: Nathan Fernander (JBLN), Antwon Bain (JBLN), Sean Forbes (JBLN), Nicholas Cox (JBLN), Alijah Butler (Freedom Farm), Crispin Rodgers (JBLN), Sherman Ferguson (Freedom Farm), Crishard Thompson (Grand Bahama Little League), Ralph Burrows (Freedom Farm), Leslie Sands (JBLN), Joel Pratt (Freedom Farm), Khayle Watkins (Freedom Farm) and Caleb Knowles (Freedom Farm).
#The Bahamas 12U tournament team, coached by Lionel Ferguson Jr, Kristian Thompson and Marlon Bostwick, will comprise of Kaizen Dorsette, Jensen Albury, Javez Coleby, Ajay Knowles, Trae Neymour, Mario Dean, Marlon Bostwick, Jordan Archer, Javan Smith, Jordan Miller, Carlton Storr, Caivan Roberts, Merko Gervansini and Doyle Sears.
#Named to the Bahamas' under-16 team, coached by Gregory Burrows Jr and Albert Cartwright, are the following:
#Andru Arthur, Breyias Dean, Chad Delancy, Daniel Gaitor, Edwin Darville, Tavano Baker, Rashawn Pinder, Raivon Pinder, Brian Johnson, Jahni McPhee, Philando Williams, Dave Neely, Javardo Bain, Lamar Sealy, Tejahri Wilson and Jason Cooper.
http://www.tribune242.com/news/2022/jul/06/teams-arriving-babe-ruth-caribbean-championships/?news