Wentia helps to keep her father Wenty Ford's legacy alive at baseball camp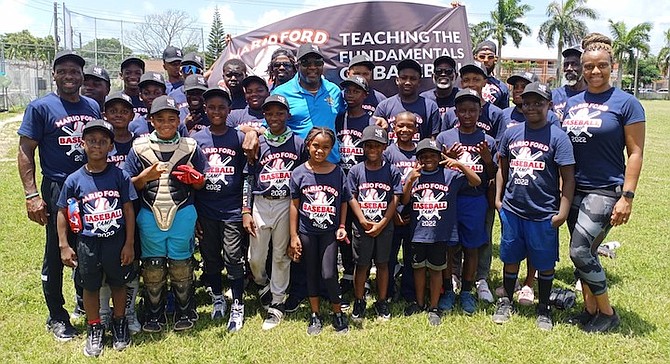 PARTICIPANTS enjoy the Mario Ford Baseball Camp with Minister of Youth, Sports and Culture Mario Bowleg. Photos courtesy of Tommy Stubbs
As of Wednesday, July 13, 2022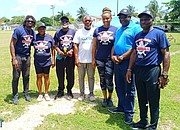 PICTURED, from left to right, at the Mario Ford Baseball Camp are Nathaniel McKinney, Linda Ford, Keith Ford, Eddie Ford, Wentia Ford, Minister of Youth, Sports and Culture Mario Bowleg and Mario Ford.
#By BRENT STUBBS
#Senior Sports Reporter
#bstubbs@tribunemedia.net
#SHE was too young to remember the exploits of Wenty Ford as a Major League Baseball pitcher with the Atlanta Braves, but Wentia Ford-Diagne said she's so glad that there are so many memories of her father that she can still rely on to help keep his legacy alive.
#On Friday as her family celebrated the 42nd year since his death in a car accident on July 8, 1980, Ford-Diagne said she was glad to join her uncle, Mario Ford, in honouring her father at the annual Mario Ford Baseball Camp on Windsor Park.
#On hand for the event was Minister of Youth, Sports and Culture Mario Bowleg, who emphasized the importance of remembering those trail blazers and at the same time put in a plug to have the park renamed after the Ford family in the future.
#Ford-Diagne, a former multiple sporting star for the Kingsway Academy Saints, left the Bahamas in 1995 to pursue her studies at Norfolk State University before she went on to Old Dominion University and Eastern Virginia Medical School, is now residing in Edinburg, Texas where she is a physician assistant partnering with her husband Dr Thiendella Diagne at Dr Diagne Premier Ob Gyn Practice with emphasis on women's health and infertility.
#The 45-year-old mother of one daughter, Mareme Evangeline Ford-Diagne, said after she consulted her uncle, Mario, they agreed that since this was the memorable day for her father's passing, they would make it a special one at the camp.
#"He's been deceased for 42 years, but in our history, I feel a lot of people don't really know about the pioneers that set the pavement for sports in the country," she said. "A lot of people really don't know the Andre Rodgers, Tony Curry and Ed Armbrister of that era.
#"If they only made it to the minors, it was a great accomplishment because of all of the segregation and everything that they had to go through. These are the people who paved the way and we need to remember them."
#Ford-Diagne said in remembering dates and putting events on to commemorate the occasion, as a family, they get to keep the memories of their loved ones alive.
#"I never really talk about my dad. When I hear the name Wenty, I know they are talking about him," she said. "But because I never really had a relationship with him because I was so young when he died, I can only go back on what I hear people say about him.
#"When Ma Flo, my grandmother died, everybody from the former prime ministers, were talking about him. So it just told me that how well respected and loved he was in this country and I'm so proud to be a part of the legacy he created."
#Mario Ford, putting on the camp for the past 36 years, said when he contacted Ford-Diagne, she was excited about coming on board and giving the assistance to the recognition of her father this year.
#In thanking God for allowing him to do the camp for as long as he has, Ford also expressed his gratitude to Ford-Diagne for partnering with him this year.
#Additionally, he thanked the parents for sending their children out to participate and to his siblings Eddie, Keith and Linda, his son, Nathaniel McKinney and the other instructors for their assistance.
#This year, the campers, ranging from ages 7-15 years, will receive a complimentary shirt with Wenty Ford's number 45 printed on the back and they will also get a hat with number 42 printed for the years since he died.
#Ford, who also played cricket, signed with the Braves in 1966 as an undrafted free agent and was promoted to the Major Leagues in September 1973 after his eighth season in Atlanta's farm system, having won 17 of 24 decisions with an earned run average of 2.46 with the Braves' two top minor league affiliates.
#In his Major League debut on September 10, 1973, Ford started against the San Francisco Giants at Atlanta-Fulton County against future baseball Hall of Fame pitcher Juan Manchal.
#Ford pitched a complete game in a 10–4 triumph, surrendering five hits (four of them singles) and six base on balls (walks), with three strikeouts.
#"Wenty wore the number 45 when he was playing professional baseball," Ford said. "He said Hank Aaron was the best on the team and he wore 44. And once Hank retires, he would be the next best player on the Braves' team.
#"He always joked about that, but he never got to live out that dream because when the Braves was thinking about trading him, he said he would prefer to retire before he got traded. After playing with the Braves for 10 seasons, he decided to come home rather than get traded."
#This is just the first week of the camp, which runs daily from 9:30pm to 12:30 pm, but by the time it finishes on July 29, Ford said the campers would have been impacted about their knowledge of the sport.
#"If the kids are not enjoying it, they won't get much out of it," Ford said.
#"So we are trying to let them have as much fun as they can. The hours might seem short, but our instructors take them through the drills and they get to play some games, so it's been a lot of fun for them so far."
#Bowleg said it's important to give respect where respect is due. "Wenty was one of those set of Bahamians, who paved the way for guys coming up like Jazz Chisholm and this Mario Ford camp is showing the kind of respect that he deserves," Bowleg said.
#"This is 42 years since he passed, so I'm just happy to be here to support his family."
#If there's anything that has been more gratifying for Bowleg is that the camp is situated in the inner-city.
#"We need to get the inner-city baseball moving because it reaches those kids who are unable to move it out east (for the Freedom Farm and Junior Baseball League of Nassau)," Bowleg said.
#"It's of uttermost importance because we need to get these kids under the age of 15 actively involved in some wholesome activities and to move them from the life of crime.
#"Our future rests on the kinds of imput that we make in these young people in youth, sports or culture so that they can have some alternative to crime."
#As for the Ford family, Bowleg said there's been consideration to renaming Windsor Park to some connection to the Ford family.
#"The Ford family has had a greater involvement in the past to so many youngsters who have participated in so many events on this park, which is located right across the road from their home," Bowleg said. "So the opportunity to rename the field the Ford Field or Park or whatever you want to call it, is something that we will be considering," Bowleg said.
#"It's something that has to be taken up with my collegiate and stakeholders before a decision of that nature is made."
#From a personal perspective, Bowleg said with the work, consistent dedication and involvement that the Ford family has contributed to the amount of youngsters they have touched, is one of the reasons why they still bear the Ford name.
#Ford said it's a public park but their family will be willing to entertain any debate on the renaming of the park in the Ford name. He said whether or not they do it, he and his family will continue to nurture the young boys and girls as they have always done in the past.
http://www.tribune242.com/news/2022/jul/13/wentia-helps-keep-her-father-wenty-fords-legacy-al/?news