Miller elated to be on National Honours list
As of Wednesday, July 13, 2022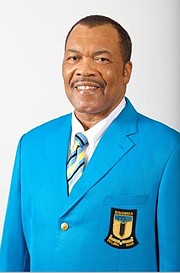 WELLINGTON Miller
#By BRENT STUBBS
#Senior Sports Reporter
#bstubbs@tribunemedia.net
#IMMEDIATE past Bahamas Olympic Committee president Wellington Miller said he's elated to be included with former world boxing champion Everette 'Elisha Obed' Ferguson in the list of honourees for the 2022 National Honours.
#In making the announcement during the 49th celebrations of the Bahamas Independence on Sunday, Governor General Cornelius A Smith said the list of citizens, some of whom are being awarded posthumously, are being recognised for their outstanding service in various areas of national development.
#When contacted on Saturday to inform him that he was one of the recipients, Miller said he had to call back to verify that the call was not a fluke.
#"Whenever you are recognised by your country for the contribution that you make, you are really appreciative," said Miller, who was a former boxer and president of the Amateur Boxing Association of the Bahamas.
#"A lot of times when you are involved in sports, you do what you have to do, but you never think that you are doing it to get any kind of national recognition like this. So, whenever you get it, you appreciate it so much more."
#While Miller was listed among a distinguished group of athletes receiving the Order of Merit, Obed, the first and only Bahamian to win a world boxing title, will be honoured posthumously as an officer.
#But as he has been campaigning over the years, Miller is still calling for something more tangible for his long-time friend and idol, Elisha Obed.
#"I still think that a person like Elisha Obed should have a street where so many people travel or a building that people go into every day should be named after him," Miller said.
#"He is the first and still the only Bahamian to win a world boxing title. He deserves to get a lot more recognition than he has received."
#Miller, however, said he is appreciative of the fact that he and 'Elisha Obed' are being recognised at the same time and he is even more greatly to be included with so many other outstanding Bahamian athletes in their own rights.
#Among the others receiving the Order of Merit are Cecil Thompson (basketball) and Gregory Burrows (baseball) as Companions and Alpheus 'Hawk' Finlayson (track and field), Denise Mortimer (tennis), Godfrey Eneas (baseball), Lawrence Burnside (cycling), Mark Knowles (tennis), Della Thomas (bodybuilding), Mychal 'Sweet Bells' Thompson (basketball), Norman Gay (bodybuilding), Winifred Russell (netball), Oswald Moore (volleyball), Churchill Tener-Knowles (softball), Leo Rolle (tennis), Ali Culmer (softball), Winston 'Tappy' Davis (volleyball), Andy Knowles (swimming), Rex Burnside (cycling/powerlifting), Allan Ingraham (football), Ed Smith (football), Florence 'Flo' Rolle (softball), Bobby 'Baylor' Fernander (softball), as officers. Sir Durward 'Sea Wolf' Knowles, the legendary star class sailor, will receive an Order of the Bahamas posthumously, along with his two separate crewmen Sloan Farrington (bronze in 1964 Olympic Games) and Cecil Cooke (gold in 1964 Olympics), both posthumously as Merit of Order Officers.
#Also being honoured posthumously for the Order of Merit as a Companion will be Andre Rodgers (baseball) and as Officers are Bertram 'Cowboy' Musgrove (cycling), William 'Yama Bahama' Brennan (boxing), Oswald 'Elisha Obed' Ferguson (boxing), Carl Minns (volleyball/basketball), Leon 'Apache' Knowles (softball), Leonard 'Boston Blackie' Miller (boxing/cycling), Natasha Newbold (powerlifting/bodybuilding), Kevin 'Kimbo Slice' Ferguson (martial arts), Rollie 'the Grandmaster' Gray (sloop sailing) and Hezron Moxey (sloop sailing).
#Grand Bahamian Neko Grant, an International Softball Federation Hall of Famer and former Bahamas Softball Federation president, will be receiving the Order of Distinction.
#"I'm so happy to see so many persons who were involved in sports being honoured this time," Wellington Miller said.
#"They have really showed their appreciation to the athletes.
#"I think that they have done a very good selection of athletes."
#The awards are expected to be presented to each individual later this year.
http://www.tribune242.com/news/2022/jul/13/miller-elated-be-national-honours-list/?news