TEAM BAHAMAS at the Caribbean Women's Championship last night at the Ciudad Deportiva Coliseum in Havana, Cuba.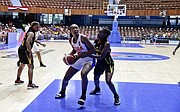 #By RENALDO DORSETT
#Tribune Sports Reporter
#rdorsett@tribunemedia.net
#The Bahamas senior women's national basketball team opened the 2022 Caribbean Women's Championship with a lopsided loss to the host country on the first night of competition.
#Cuba took a dominant 76-44 win over The Bahamas last night at the Ciudad Deportiva Coliseum in Havana, Cuba.
#High school sensation Denika Lightbourne finished with 17 points and five rebounds – both team highs – while Valerie Nesbitt added 13 points, four assists, three steals and two blocks.
#The Bahamas shot just 25 percent from the field (11-43) and 20 percent from three-point range (2-10). Cuba also struggled from three-point range at just 9.5 percent (2-21) but dominated the interior with a nine-rebound advantage and 47 percent shooting from the field (27-57).
#Nahomis Vargas led three Cubans in double figures with 15 points, Isabella Jourdain had 14 points and 10 rebounds, while Yamara Amargo had 11 points.
#Cuba took a 20-8 lead after the opening quarter and led 38-22 at the half. The Bahamas had their best scoring quarter in the third when they edged the Cubans 16-14, but followed that with their worst quarter in the fourth when they were outscored 24-6.
#The Bahamas will face the Dominican Republic at 5pm today and Jamaica at the same time on Friday, July 15.
#The playoffs will take place on Saturday and Sunday, July 16-17.
#The CBC grants three spots in the Women's Centrobasket Championship 2022, scheduled for the month of November.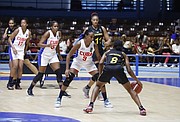 #This marks the first time Cuba has hosted a regional senior women's basketball event in more than 20 years.
#Recently, the Ciudad Deportiva de La Habana coliseum hosted their men's senior team in two FIBA World Cup 2023 Americas Qualifiers games during the second window in February.
#Team Bahamas is coached by Donnie Culmer, who is assisted by Deven Johnson and Di'Asti Delancy.
#The roster includes Nesbitt, Lightbourne, Philicia Kelly, Britenique Harrison, Roberta Quant and Latoya Rolle, Tiffany Wildgoose, Lativia Brennen, Antonicia Moultrie, Valicia Demeritte, Denika Lightbourne, Lorraine Oliver and Karolyn Baptiste.
#The team is managed by Anastacia Sands-Moultrie with Charlis Robbins as the director of basketball operations, Latoya Silver as the head of delegation and Sasha Johnson as the trainer.
#In addition to winning the CBC Championship for Women in 2015, the Bahamas also won the 1998 Caricom Basketball Championship for Women and placed third at the CBC Women's Championships in 2018.
http://www.tribune242.com/news/2022/jul/14/team-bahamas-falls-cuba-76-44-opener/?news