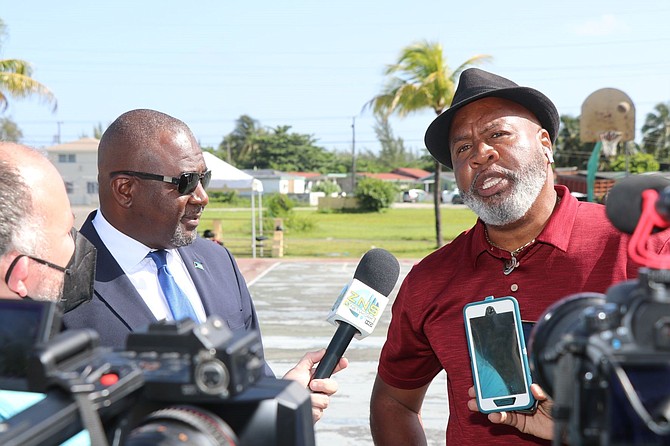 MINISTER of Youth, Sports and Culture Mario Bowleg, left, and the organiser, Apostle Carlos Reid, talk about about the Pastors vs Politicians game. Photo by Eric Rose
#By BRENT STUBBS
#Senior Sports Reporter
#bstubbs@tribunedmedia.net
#WHILE Minister of Youth, Sports and Culture Mario Bowleg feels the Politicians have assembled a team that they feel can win, Apostle Carlos Reid, the organiser, is urging everybody to come out and see how the Pastors counteract with their team when they meet in the Peace On Da Streets showdown.
#The two important pillars of our society will come together in the Pastors versus the Politicians basketball game 7pm on Sunday, August 7 at the Kendal Isaacs Gymnasium as the Peace On Da Streets Basketball Classic, held in memory of the late Michael "Scooter' Reid, will wrap up.
#The classic, which will feature a 13-and-under, 16-and-under, 19-and-under, open men and church division, is slated to run from August 1-7.
#The Pastors vs the Politicians will be the highlight of the championship day on Sunday.
#"We are going to win this year," Bowleg said. "I have no doubt that the great Bishop Neil Ellis will be on the other end coaching the Pastors and our Prime Minister Philip 'Brave' Davis will be coaching the Politicians.
#"We have no doubt that when you put Leonardo Lightbourne, McKell Bonaby, Bacchus Rolle, Wayde Watson and me along with Shanendon Cartwright, once we are in shape and we can get up and down the court, we will be fine."
#Bowleg, a former player turned coach and administrator of basketball, said Reid is looking at some young Pastors to participate, but he anticipates that it will be a fun-filled game that no Bahamian, no matter what side of the court they are rooting for, will want to miss.
#"We are all ministers in our own rights, whether it's as spiritual ministers or ministers of government, we all must come together and share our knowledge and we want to do what is right to ensure that this country is ran right," Bowleg said.
#Unfazed by what he heard from Bowleg, Reid said he will remain respectful, as he was taught in the church.
#"But this is not a jokey match as it was in the past," he said.
#"This is going to be a real game," he said. "The Politicians look good. They have a good team on paper, but we know because we understand scripture, just as David cut down Goliath, we are going to cut down their size.
#"The thing that we have going for us this year is that we've moved the game to Sunday for a number of reasons. We know that in the Bahamas, Sunday is a day when we worship God. This is going to be a worship experience. We are going to bring the whole church inside the gym. We will have the crowd behind us and there's no way in the world the church is going to allow the politicians to win one."
#Reid, however, said they are not going to "let everything out of the bag" because when he asked Bowleg for their roster, he only sent in their height, but didn't provide any names.
#So, he's trying to keep that under wraps until the day of competition.
#Having held their own against the politicians in the past, Reid said the church will once again prevail.
#"We just came out of elections about a year ago and so this is a time for healing," he said. "We will see people from the PLP, the FNM and even the DNA come together. That is what this country needs during this social unrest that we are going through."
#This year, Reid said they decided to honour his brother, Michael Reid, whom he considers to be a legend in the Bahamas.
#"We want to make sure that people will always remember who Scooter Reid was," he stated.
#"So, we decided to name the tournament this year, the Michael 'Scooter' Reid Peace On Da Street Basketball Classic."
#As the elite basketball tournament in the country, Reid said this allows the professional and collegiate players who are home on a break to participate in the event and they are even looking at having some visiting scouts in town to look at the talent on display.
#Reid said in the words of Bishop Lawrence Rolle, they want to be "loose as a goose" in getting back out in society and participating in sports again since the country was locked down as a result of COVID-19.
#"It balances us in life," Bowleg added. "As people go back to work and school, they get caught up in activities. But at the end of the day, everybody needs some extracurricular activities to help balance them at the end of the day."
#There is an entry fee of $10 per adult and $5 for children under 12 to view the action.
http://www.tribune242.com/news/2022/jul/15/politicians-face-pastors-peace-da-streets-showdown/?news