Rosamunde Carey and 21st Century Athletic team introduced to the public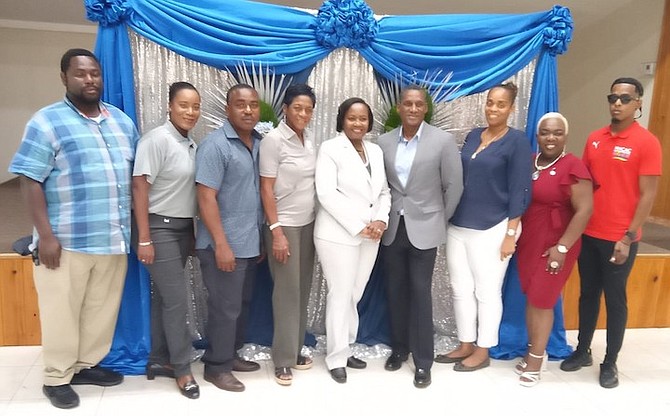 ROSAMUNDE Carey and her 21st Century Athletic team of officers are pictured above.
As of Thursday, November 24, 2022
#By BRENT STUBBS
#Senior Sports Reporter
#bstubbs@tribunemedia.net
#WHILE the others did it through social media, Rosamunde Carey and her 21st Century Athletic team had an official launch on Friday to introduce their slate of officers to the public for the Bahamas Association of Athletic Associations' general elections.
#With the elections set for 10am on Saturday, December 3 at Thomas A Robinson National Stadium, Carey and her team were introduced at the Canon Neil Roach Center at Holy Cross Anglican Church on Soldier Road.
#She indicated that after making history as the first female to be elected as president of the BAAA in 2017, she's eager and ready to serve again.
#"We, the candidates of 21st Century Athletics, align ourselves with the trajection of the upward mobility witnessed in 2017," she said.
#"Our vision is immersed in ensuring the continual success and resurgence of athletics within the Bahamas."
#Over the past several months, Carey said she and her team of competent, dedicated, energetic and innovative individuals, have canvassed and engaged, but more importantly, they listened to the athletic community and the stakeholders.
#"Similar to our parent organisation, World Athletics, who have engaged in an investigative initiative called the Global Conversation, we too, have taken that approach," Carey said. "We have and will continue to engage coaches, athletes, the athletes' representatives, parents, officials and corporate sponsors.
#"Our engagements with you were international and were designed for us to hear your concerns, ideas, suggestions, and recommendations. As a result of these conversations, we have gained a deeper appreciation and greater understanding of the challenges you face, furthermore, they helped to identify opportunities to the effect needed changes."
#Her executive team include Olympian Carl Oliver for first vice president, Grand Bahamian Sandra Laing for second vice president of finance, former athlete/coach Cedricka Rolle, vice president of business operations, Verna Bonaby, vice president of public relations and marketing and coach Bernard Newbold, vice president of technical operations. Vying for council members are the following:
#Patrick Adderley, entrepreneur
#Stephen Murray, veteran coach and current councillor
#Nurse Jackie Rolle – medical team
#Ramon Miller – Olympian
#Nickito Johnson – veteran educator and coach
#Jason Larimore – veteran coach
#Daphne Saunders – former CARIFTA standout
#Carey listed the 10 core themes that her 21st Century Athletics Team have identified is needed to be addressed immediately once they are elected.
#The list is made up of the following:
#Strong Administration/ Good governance.
#Effective Communication with all stakeholders.
#Improved stakeholders relations – both public and private.
#Rules and regulations (policies and processes)
#Branding.
#Procedural adherence in all meetings (Roberts Rule).
#Faire and equitable selections of athletes and coaches for teams.
#Clearly defined roles for administrators.
#Standardisation of measurable plans for talent identification and development programmes and strategic forecasting.
#Revitalisation of relay teams and relay camps. Carey said if they can achieve those things, they can take the BAAA and track and field to the next level, not just in the Bahamas but on the international scene.
#She charged that her 21st Century Athletic Team remains a team united and consistent in their vision and belief for a better BAAA.
#She invited the rest of the track and field fraternity to support and collaborate with them on this journey.
#This weekend, the 21st Century Athletic Team will be taking their campaign to Grand Bahama where they will hold a brunch and mingle from 11am to 1pm on Saturday at the Bishop Michael Eldon School on Beachway Drive and East Sunrise Highway.
http://www.tribune242.com/news/2022/nov/24/rosamunde-carey-and-21st-century-athletic-team-int/?news