Upvote0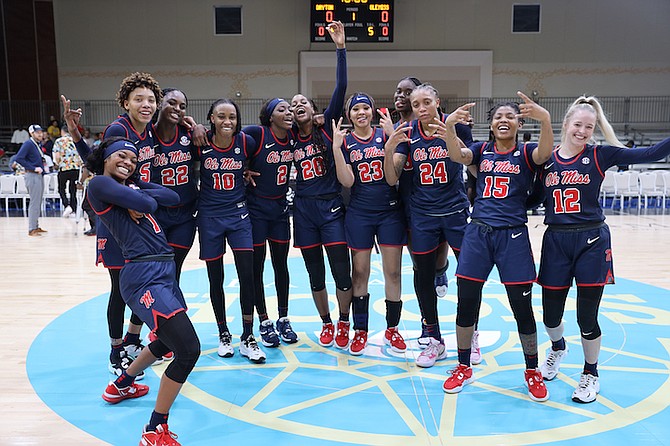 THE UNIVERSITY of Mississippi Rebels lost to the number 17-ranked Utah Utes last night in the Baha Mar Hoops Pink Flamingo Championships. Photo: Austin Fernander/Tribune Staff
As of Thursday, November 24, 2022
#By BRENT STUBBS
#Senior Sports Reporter
#bstubbs@tribunemedia.net
#IN what turned out to be a dramatic finish to a great Baha Mar Hoops Pink Flamingo Championships last night at Baha Mar, the number 17-ranked Utah Utes held off the University of Mississippi Rebels 69-67 on a three-point play with just six seconds left on the clock.
#As Utes' Kennac McQueen attempted to shoot the basket, she was fouled by Rebels' Angel Baker. McQueen went to the line and missed the first charity shot, but converted the next two to seal the deal.
#Ole Miss, coached by Bahamian Yolett McPhee- McCuin, attempted one last shot by Snudda Collins, but she missed as the buzzer sounded. Utah remained undefeated to win the title, while the Rebels dropped their first game of the season to finish as the runners-up.
#"I shot a million free throws, so it was moments like these that you live for," said McQueen, who was 4-for-5 from the foul line as she ended up with a total of 10 points. "I missed the one, but I knew I was only to hit the next two. I had confidence on the line."
#Utah's coach Lynne Roberts said it was a hard-fought game, but while Ole Miss played a physical game, she's just happy that they won.
#"We didn't play the style we liked to play. We didn't shoot well and we got out-rebounded but we still found a way to win," she said. "So I'm really proud of our team. Very impressed with Ole Miss, but it was a great win."
#McPhee-McCuin, who had a large cheering squad in the gym, said it was not what they anticipated, but she's still super proud of her Rebels.
#"It felt like an NCAA Tournament game. That's a NCAA team. I feel like we have a chance to be the same," she said. "I was super proud of my team. Everybody counted us out. We lost a draft pick and we had a lot of new pieces.
#"But just to watch them step up and make big plays and being home in the crowd having our back. That was why we were in the game and got to take the lead. It was a lot of teaching moments in November. We got better, so for that I'm proud."
#Alissa Pili was simply sensational for the Utes as she powered inside for a game high 21 points with nine rebounds.
#Jenna Johnson had 16 points and 10 rebounds, while McQueen and Gianna Kneepkens both had 20.
#In a losing effort, Ole Miss got 18 points with eight rebounds from Marquesha Davis, Collins had 16 points, Baker contributed 13 points with five rebounds and four steals and Myah Taylor helped out with 10 points, five assists and four rebounds.
#Before the drama unfolded at the end, Collins hit a jumper for a 67-67 tie with 19.5 left.
#With 1:24 to go, Pili got a reverse lay-up to give Utah a 67-63 lead after Dasia Young canned a three-pointer, but Baker converted a pair of free throws for a 67-65 Ole Miss deficit.
#Utah took a 56-55 lead on Dasia Young's three-point play, but Collins canned a three-pointer and Baker added another to push Ole Miss out front 61-56 with about six minutes to go. Two minutes later, Utah came within one, 61-60.
#In the third quarter after the Utes drew even at 39-39, the Rebels went up 46-39, only to watch as the game was tied again at 48-46. Ole Miss maintained the lead as they held onto a 52-50 advantage at the end of the third quarter.
#With 1:06 left before intermission, Collins completed a three-point play as Ole Miss went up 35-31, but Utah's basket at the other end cut the lead in half (35-33) at the half.
#Collins and Davis both had nine points to pace the Rebels in the first two periods. Taylor had seven and Scott six.
#The Rebels had to rally from a seven-point, 26-19 deficit, with about seven minutes to go before they took the lead at the half.
#Despite falling behind, Johnson had 11 for Utah.
#In the first quarter, Utah opened an 11-8 lead at about the four-minute mark, but Ole Miss managed to trim the margin down to one (20-19) at the end of the first break.
#Three other games were played prior to the final with a summary of each one listed below:
#Kentucky 70, Dayton 44: The Wildcats had three players in double figures, led by Robyn Benton with 15 points with two rebounds, Ajae Petty had 12 points, six rebounds sand two steals and Jada Walker had 11 points and three steals.
#In a losing effort for the short-handed Flyers, who were winless in their two games, Mariah Perez scored a game high 16 points with 10 rebounds and three blocks. Maliya Perry added nine points with five rebounds.
#Kentucky led 17-12 at the end of the first quarter and they never relinquished the lead.
#Virginia Tech 73, Missouri 57: Kayana Taylor led three Hokies players in double figures with 18 points, six rebounds and four assists. Elizabe Kitley added 17 points and 20 rebounds and Georgia Amoore chipped in with 15 points, six assists and three rebounds in their second win of the tournament.
#Haley Troup scored a game high 21 points with three rebounds and Hayley Frank had eight points with four rebounds in a losing effort for the Tigers.
#Alabama 61, Wake Forest 58: Megan Abrams paced the Crimson Tide's attack with 14 points as they got their first win the of the tournament. Brittany Davis had 12 points and seven rebounds and Jada Rice added 11 points.
#Demeara Hinds scored a game high 18 points with 10 rebounds to lead the Deacons, who leave winless.
#Jewel Spear had 26 points and seven rebounds and Kaia Harrison added 12 points and four assists in the loss.
#Missouri Tigers def. Wake Forest Deacons 69-47, University of Utah Utes def. the Alabama Crimson Tides 93-68 and the Virginia Tech Hokies def. Kentucky Wildcats 82-74.
http://www.tribune242.com/news/2022/nov/24/ole-miss-rebels-lose-two-points-pink-flamingo-cham/?news