Chisholm looking for MVP season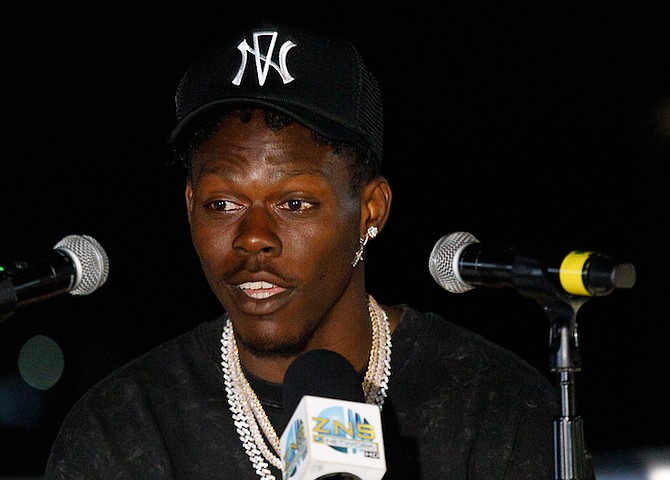 JAZZ Chisholm talks to the media at Fusion Superplex yesterday. Photos: Austin Fernander/Tribune Staff
As of Thursday, February 2, 2023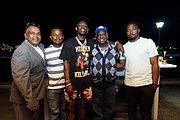 BIRTHDAY boy Jasrado "Jazz" Chisholm spent time with his family, friends and the media at Fusion Superplex yesterday where he talked about a little of everything from being selected to returning to action after he got injured last season.
#By BRENT STUBBS
#Senior Sports Reporter
#bstubbs@tribunemedia.net
#Birthday boy Jasrado "Jazz" Chisholm said he's thrilled to have been selected as the face of the Major League Baseball (MLB) The Show video game. But he's even more excited about returning to the Miami Marlins line-up in a new role in a bid to win the Most Valuable Player award this year.
#While he's usually home for a "low key" celebrations, Chisholm's 25th birthday yesterday was a little more appreciated as he spent time with his family, friends and the media at Fusion Superplex where he talked about a little of everything from being selected to returning to action after he got injured last season.
#In the first of a two-part series today, Chisholm will talk about his rise to become the seventh Bahamian to play in the Major League of Baseball to be sidelined and returning from the mid-season ending injury.
#First of all, happy birthday Jazz.
Twitter
Jazz Chisholm Tweet
#"It's kind of funny that every year I come home and celebrate my birthday low keyed," he said. "It's like nobody knows, except my family and my close friends know I am home. It might look like I'm in the States training on my birthday, but probably every year, I celebrate my birthday at home."
#And home to celebrate this year with his latest achievement as the face of The Show, Chisholm said it's even crazier because this is something that he only dreamed about and now it has finally come to reality.
#He said they just called him and told him he was going to be the cover athlete and after they told them that they will have him on the cover, he signed the seal and sure enough everything else fell into place.
#"A lot of parents who have been out at Freedom Farm and see me play when I was younger and hear me yelling around the field how I want to be a big leaguer, how I want to be a Hall of Famer, how I want to be on the cover of the magazine of the video game, these are some things I was saying from I was a kid," he said.
#"So to see it live now and to see it happen right before my 25th birthday is the best gift I can get. It made me live out my dream. I could remember seeing Albert (Cartwright) and Antoan (Richardson) do it and that made me want to do it."
#And even though he's living it out, Chisholm ran into a snag last year when he was sidelined on July 22 with a stress reaction in his lower back.
#On September 10, the Marlins announced that he would be out for the rest of the season.
#Now fully recovered, Chisholm said he's looking forward to the start of the 2023 season with the Marlins.
#"My body feels great. Every day it feels like it's getting stronger and stronger and I feel like I am ready to play 160 games. My plan is just to stay on the field," he said. "That's the only thing I feel I have to work on is staying available."
#Chisholm, however, will be moved from second base to centre field because of an off-season trade that Miami made bringing in Luis Arraez. But he said his grandmother Pat Coakley always told him he could do what he put his mind to.
#"New position it doesn't matter to me. I will just go out there and play baseball," he said. "I'm a second baseman, but I'm sure a lot of people saw me run down fly balls in centre field that a centre fielder should catch, so I feel I can go out there and catch the balls in centre field that the centre fielders should catch."
#The only difference in the change in position will force Chisholm to run a lot more than he would as a shortstop or second baseman.
#"Every day I am on the field. Even when I'm home, I'm on the field training," Chisholm said. "I'm working out every day, getting my reps in, getting my workout done. No matter what, if I fly here for one day I get my reps in and when I fly back, the next day I get my reps done. I never stop working. I'm always ready."
#It's good, however, Chisholm said, to come home and be able to train in the new Andre Rodgers Baseball Stadium.
#"I always wanted to play in the baseball stadium, so to get the opportunity to work out there and stuff like that, I honestly can't wait to see how it will turn out in the end," he said. "I'm just glad to get the chance to work out."
#Looking back at his season, Chisholm said it hurt that he didn't get to play in the All-Star game for the National League after being selected as a starter. He went to the game at the Dodger Stadium in Los Angeles, but couldn't watch the entire game.
#"It's just something that you take in. It was my first All-Star, my first time being at the All-Star game and not getting to play was tough," he said. "This year, I have to get back there. I already told them, I have to go deep (hit a home run) in the All-Star game."
#And while many felt he was having a remarkable year before the injury, Chisholm said it was just average, even though in 213 at-bat, he had an average of .254 with 14 home runs, 45 runs batted in (RBI) and 12 stolen bases in 60 games played up to his injury.
#"I was doing that in rookie ball and low A and double A," he said. "As a big l, I feel I should have been doing more. I can't be duplicating the things that I was doing as a kid. I mean I am 25 now, so I am a man now. So I feel it's time for me to become the man that everybody wants me to become."
#And the only thing he would like to add on his résumé this year is the "MVP" most valuable player award.
#"I don't expect less of myself," he charged.
#As for the Marlins, Chisholm said he's watching his team-mates work out every day when he's in Miami and with more and more of the players coming out, he likes what he's seen so far on the field and in the gym.
#"We might be underrated, but we will coming out with some fire," he said. "They might be thinking they can blow by us, but we have a couple of sticks coming for us."
#Chisholm said he's expected to get in some early workout sessions in a minor league that is expected to be staged in Miami when he gets back.
#Once he can get in sufficient at-bats, he's hoping that he can suit up and play for Great Britain next month in the World Classic with the other Bahamian players.
#"All of the things that have been happening the past seven-eight years in Bahamian baseball is leading towards the Bahamas having its own team," he said.
#But after working out with coaches Geron Sands and Albert Cartwright, who worked with him from before he turned pro, Chisholm said he enjoyed his birthday and he's looking forward to spending time with his family and friends.
#Note: In the second part of the interview on Friday, Chisholm pays tribute to his first ever coach Frankie Simmons, who recently passed away.
#Chisholm will also talk about his involvement with both Sands and Cartwright and others who assisted him along the way.
http://www.tribune242.com/news/2023/feb/02/chisholm-looking-mvp-season/?news