Rattlers win opener
SENIOR BOYS EARN 58-49 WIN OVER T-WOLVES, KNIGHTS BEAT CI GIBSON SENIOR GIRLS 47-46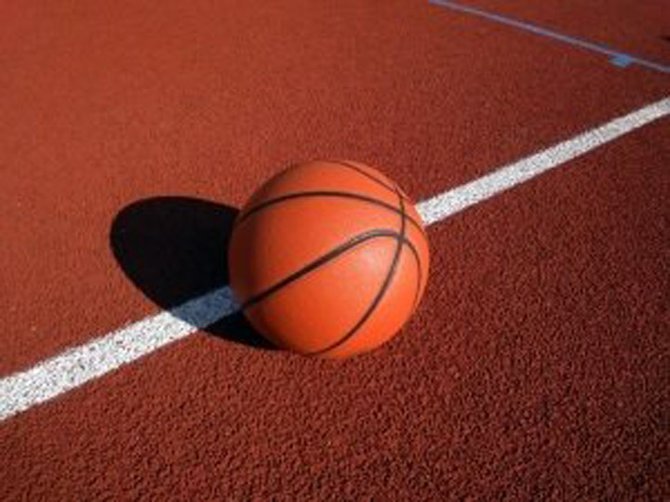 As of Thursday, February 16, 2023
#By BRENT STUBBS
#Senior Sports Reporter
#bstubbs@tribunemedia.net
#After his senior girls got stunned by one point by the CR Walker Knights, CI Gibson Rattlers coach Kevin 'KJ' Johnson made sure his senior boys didn't go down in the opening games of the Government Secondary Schools Sports Association's best-of-three championship series.
#Last night at the Kendal Isaacs Gymnasium after the Knights nipped the Rattlers 47-46 in the senior girls' game, CI Gibson came back in the nightcap and pulled off a big 58-49 victory over the Anatol Rodgers Timberwolves in a match-up between the teacher (Kevin Johnson) coaching against his former student (Denycko Bowles).
#"I don't want to go down 0-2 in the championships," Johnson said.
#"The girls lost a tough battle down the stretch. We didn't listen in terms of what we had to do. CR Walker was able to force some turnovers and their best player hit a basket, but we will live to see tomorrow and we see what happens."
#In the other two series, the DW Davis Royals held off the SC McPherson Sharks 40-35 in the junior boys' opener and the CH Reeves Raptors junior girls prevailed 31-23 over the HO Nash Lions in their first encounter.
#Game two in all four series will be played today, starting at 4pm with the junior girls. If necessary, the third and deciding games will be played on Friday.
#Senior boys
#Rattlers 58, Timberwolves 49: Gerrad Rolle canned 13 and both James Delia and Tashon Butler had 12 to lead CI Gibson's attack. Stexens Joseph chipped in with seven, Dieunel Joseph and Brian Cezalien both had five and Jude Vil helped out with four.
#The Rattlers opened a 14-9 lead as Stexens Joseph led the way with five. They pushed ahead 29-20 at the half with Rolle hitting seven and Cezalien coming through with five. They went up 44-35, highlighted by a pair of three-pointers from Delia and five points, including a three, from Butler. But the Timberwolves refused to give up. They fought and battled back to cut the deficit to two, only to watch as the Rattlers surged ahead and took control down the stretch to clinch the opener of their series.
#Lavardo Saunders scored 16, Xavier Thompson had 15, Kirkwood Rolle 10 and Jefferson Bethel 10, but it wasn't enough for Anatol Rodgers, coached by Denycko Bowles. Saunders had seven and Thompson added four.
#"This one, we definitely want to win. It's far from over. That's a resilient team over there. We went up by 24 and they came back within two, but we were tough enough to pull it out," Johnson said. "We just need to play better defence down the stretch."
#Senior girls
#Knights 47, Rattlers 46: Shenell Stewart hit the shot of her life to put CR Walker up for good in the last 12 seconds to seal the deal in game one.
#"I just went to the basket and I got fouled," Stewart said. "I was happy to be able to get the shot in and help us win."
#Stewart, who forced a turnover on CI Gibson at the other end, finished with 13 points. Brianna Hanna, however, led the attack with 16. Shamaraja Cummings had 10 and Raynia Russell added four.
#Jada Francis had a game 21, Traineia Green added 16 and Philippa Ferguson chipped in with seven in a losing effort.
#The Knights, playing back-to-back games, opened a 15-14 first quarter on two three-pointers from Hanna and five points from Stewart before the Rattlers came back for a 24-24 tie at the half thanks to six points from Francis.
#CI Gibson surged out front 36-31 in the third as Green scored eight. But with a 16-10 spurt, highlighted by Hanna's 10, including a big three-pointer to bring CR Walker within one, Stewart came up with the big shot.
#"It was a nail-biter. Really and truly, they were tired," said CR Walker's coach Tia Rolle.
#"After playing yesterday (Tuesday), they were really tired, but they gave it all they had and they fought right down to the wire."
#Junior boys
#Royals 40, Sharks 35: Darius Hanna exploded for a game high 20 points, Wimdisky Paul had nine, Kamani Davis four and Melvin Simeon and Kamal Miller scored four apiece to pace DW Davis to a hard fought victory.
#"SC McPherson is a very good team, very good guard in number nine (Kami Davis) and the lady coach Lacricia Swann) is doing an excellent job with them," said Raptors coach Mark Hanna.
#"We came with a game plan to attack number seven (Malachi Cadeam) and he took the bait and got in foul trouble early. We put a box on nine (Kami Davis) and took the ball out of his hands.
#"My guys listened and they went out and executed and thank God we came out with the victory."
#Kami Davis scored nine, Malachi Cadeam had eight, Emmitt Smith had five and both LaQuare Collins and Shawn Rolle added four in a losing effort.
#DW Davis opened an 11-5 first quarter lead as Hanna came through with four and Paul and Miller got three. SC McPherson came back for a 20-17 lead at the half as Cadeam and Woodside both had six in the period.
#But the Royals surged back on top 28-25 as Hanna connected on six and Davis had four. In the fourth, Hanna had eight to preserve the win.
#Hanna was particularly pleased with his son Darius, who 15 years ago was born when Hanna was coaching against TA Thompson. Hanna remembered when he got the call from his wife that she was in labour. He left the game and by the time he got back, they ended up losing the game.
#"I always told him (Darius) that he owes me a championship," Hanna said of his son. "Due to the pandemic, we were unable to play in his first two years at DW Davis. But now we're playing, he told me, 'Daddy, I'm going to try my best.' He's trying hard."
#Junior girls
#Raptors 31, Lions 23: Riccara Beadle singlehandedly powered CH Reeves to their opening game victory with a game high 26 points. Durya Poitier was the next best scorer with four. Tajhanique Morley scored the only other point.
#"I'm happy that we took the first one. Now it puts the pressure on them to come back and take game two," said CH Reeves' coach Varel Davis. "I'm not too pleased with the way our girls played. They could play a whole lot better. Hopefully they will come back tomorrow (today) and play much better."
#After opening an 8-6 lead at the end of the first quarter and pushing their margin to 14-11 at the half, the Raptors went on a 13-6 tear – thanks to Beadle's 12 – to extend their lead to 27-17 and they coasted in the fourth.
#Saniyah Munroe had 12, Shanavia Moxey had six and Jada Frazer had five in a losing effort.
http://www.tribune242.com/news/2023/feb/16/rattlers-win-opener/?news